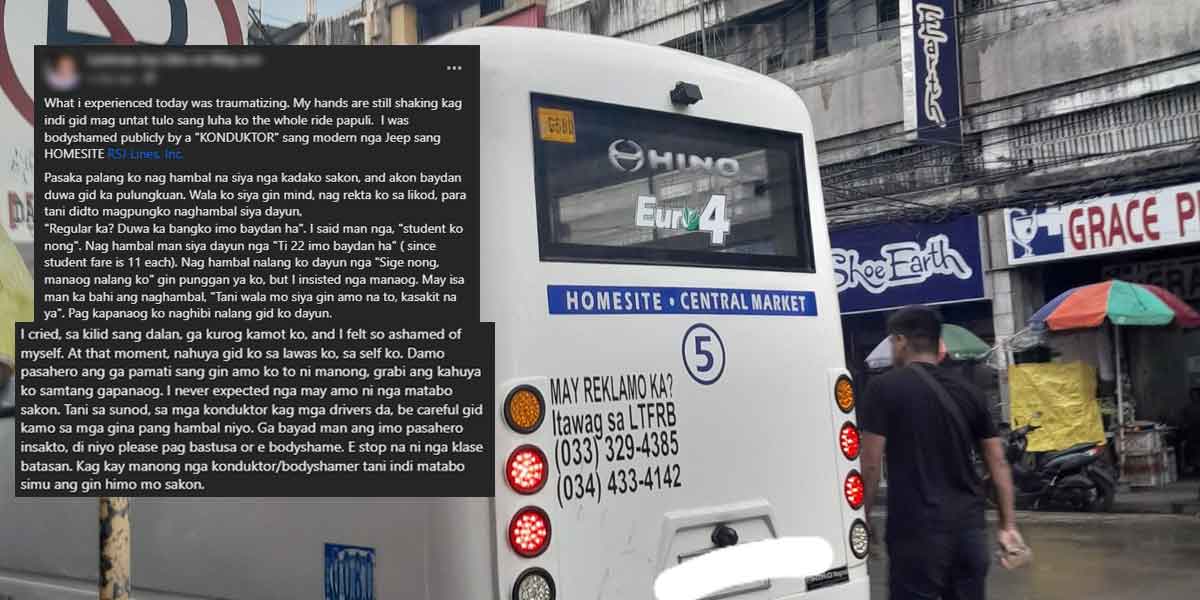 By Glazyl Y. Masculino
BACOLOD City – It's a bad joke.
This was the reaction of Mayor Alfredo "Albee" Benitez after he learned about the alleged incident where a modernized jeepney conductor "body shamed" a college student-passenger in the Downtown area here last Wednesday.
Based on a Facebook post of the student-passenger, a conductor of RSJ Lines Inc. allegedly discriminated against her because of her weight or body structure.
"I was bodyshamed publicly by a 'KONDUKTOR' sang modern nga Jeep sang HOMESITE RSJ Lines, Inc. Pasaka palang ko nag hambal na siya nga kadako sakon, and akon baydan duwa gid ka pulungkuan," the passenger said in a Facebook post that went viral with more than 20,000 shares, as of this posting.
The passenger said that she didn't mind at first, but the conductor allegedly insisted that she should pay for two people instead of one. The remark shamed her into disembarking from the jeepney.
"I felt so ashamed of myself. At that moment, nahuya gid ko sa lawas ko, sa self ko. I never expected nga may amo ni nga matabo sakon. What happened today was traumatizing," she said.
She is hoping that this incident will not happen again, as he reminded conductors and drivers to be more careful with their words. "Ga bayad man ang imo pasahero insakto, indi niyo please pag bastusa or e bodyshame. E stop na ni nga klase batasan," she said.
Following the incident, RSJ Lines Inc. issued a statement yesterday apologizing for the unfortunate situation that has affected the aggrieved individual.
The company emphasized that they take these matters seriously and unequivocally denounce and disapprove of such behavior.
"We uphold ourselves to exacting customer service standards, and the actions of the employee in question are in no way indicative of our principles or our dedication to delivering exceptional service," the statement said.
The company said that they have reached out privately to the aggrieved individual and have taken measures to address this situation comprehensively, including a thorough investigation and the implementation of appropriate disciplinary actions for the employee.
Benitez said that he met with the jeepney operator and conductor yesterday to get their side of the story.
Benitez said that according to the company, they did everything to appease the victim and explained the procedures, including the conduct of orientation on their employees on how to conduct themselves.
"According sa konduktor, lahog-lahog lang kuno. But, it's a bad joke," the mayor said.
Benitez said they are waiting for the action taken by the victim.
He emphasized the importance of promoting and observing proper social values, following the incident.
"Maghalong gid kita. Abi ta lahog-lahog lang pero makasakit ta sa iban na tawo," he said.
Meanwhile, the Land Transportation Office (LTO)-6 will issue a show cause order to the said conductor after the incident reached the office of the regional director.
The company and the conductor will be called to explain the incident.