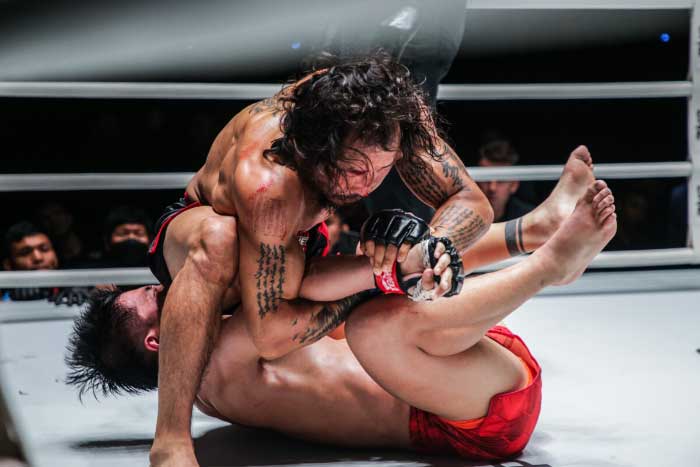 By Leobert Julian A. de la Peña
Filipino rising Mixed Martial Arts (MMA) star Jhanlo Sangiao dropped his first ONE Fighting Championship bout after losing at the hands of Mongolian veteran Enkh-Orgil Baatarkhuu last August 5, 2023, held at the Lumpinee Boxing Stadium in Bangkok, Thailand.
Sangiao was looking to book another win after dropping the Mongolian at the end of the first round but Baatarkhuu scored a submission victory in the second period to become the first ONE fighter to taint the Filipino's unbeaten record.
With the loss, Sangiao now dropped to 6-1 while Baatarkhuu improved to 10 wins and two defeats with three victories coming via way of submission.
The newest asset of widely-renowned PHL-based MMA stable Team Lakay was working his offense to perfection after landing several combinations while evading the Mongolian's first set of attempts to take him down.
Known as a ground grappler, Baatarkhuu was completely neutralized in the first two minutes as Sangiao wisely took the fight in a stand-up exchange.
However, Baatarkhuu was able to find the loophole in Sangiao's takedown defense and successfully pinned him down to the canvass using his legs.
Sangiao was able to get out of danger and scored two more vicious jabs to end the first round up on the scorecards.
The scenario then went worse for Sangiao at the start of the second round as the Mongolian controlled the ground game and lured the Filipino several times.
Midway through the second round, Baatarkhuu clipped Sangiao in the middle of the canvass and took his arm outside his pocket, a basic preparation for an arm twist submission move.
Sangiao resisted the move in his first attempt and escaped out of an arm bar situation but the Mongolian pressed harder to pull off the submission win.