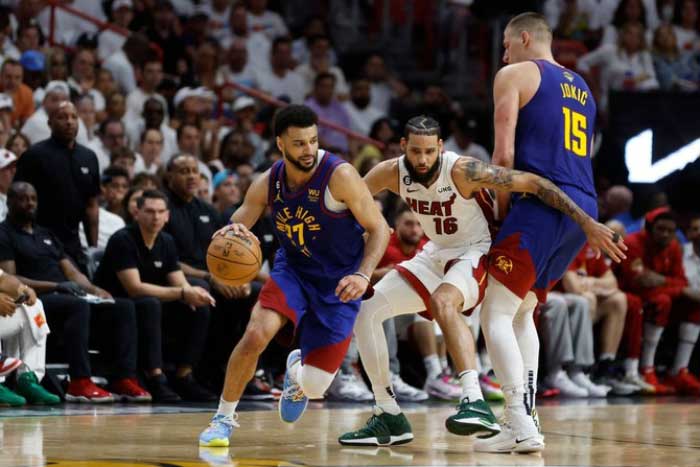 By Leobert Julian A. de la Peña
The Denver Nuggets responded big time after that Game 2 loss on their home floor and stayed sharp for 48-straight minutes to fend off the Miami Heat, 109-94, to take a 2-1 NBA Finals series advantage last June 8, 2023.
After letting Game 2 slip away when they were ahead by as much as 15 points and then folded in the fourth quarter, head coach Michael Malone and the Nuggets made sure they'll send a message in their very first finals road game.
Denver's superstar tandem of Nikola Jokic and Jamal Murray proved to be too much once again for the Heat after the duo combined for 66 points built from 24 made field goals out of 43 total attempts.
Both stars delivered with a triple-double stat line as Jokic finished the game with 32 points, 21 rebounds, and 10 assists while Murray had 34 points, 10 rebounds, and 10 assists.
After getting a little confused with how Miami mixed up their zone defenses last Game 2, the Nuggets might just solve a portion of the Heat puzzle after finding quick counters to break the defensive scheme.
All thanks to Denver's unsung hero, the athletic rookie Christian Braun who became the catalyst of the game upon entering the playing court in the final stretch of the opening quarter.
Braun started with his signature physical defense on Miami's backcourts and later on chipped in offensively when he drove hard from the baseline while also perfectly timing his backdoor cuts to get more touches in the rim.
Perhaps Braun's efficiency flourished in the fourth and final quarter when he was able to dime the ball to Jokic via several pocket passes while also scoring five-straight points that halted a Miami run to protect their double-digit lead.
Denver's bench was all fired up after Braun converted a foul-counted drive and followed it up with an isolation attack to Jimmy Butler that increased their lead to 21 points, 93-72.
The emerging rookie had his best game of the Finals so far and contributed 15 big points, four rebounds, and a steal in just 19 minutes of playing time.
Both squads were still trading baskets in the first 12 minutes of action as the first quarter ended with a 24-all deadlock but after the Nuggets flipped the switch and ran their high-octane offense to perfection, the Heat failed to win a single quarter and got outscored, 85-70, in the last three frames.
Miami showed some signs of life in the fourth after Kyle Lowry hit a couple of buckets but Denver always provided answers courtesy of Jokic and Murray's incredible shot-making.
The Heat got 28 points from Butler but was still not enough to get them over the Denver hump. Bam Adebayo continued his 20-point streak after dropping 22 markers and 17 rebounds but the duo needed more help as Caleb Martin was the last player to reach double-digit scoring with 10.
Miami will look to avoid back-to-back losses on their home floor and will seek to even up the series at 2-2 when they meet again with Denver on June 10, 2023, for Game 4 of the NBA Finals.