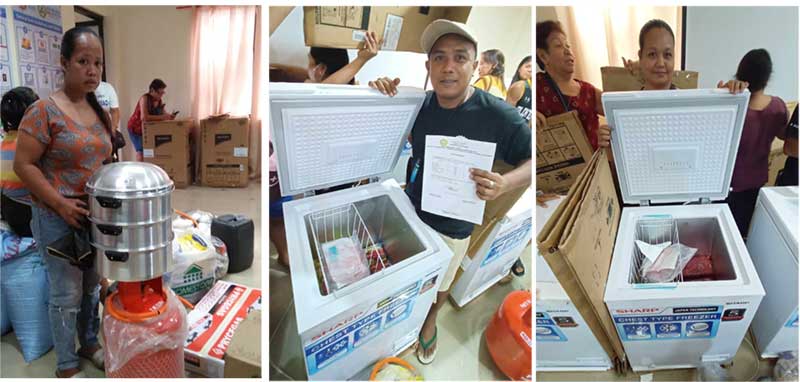 Mereliza Millamena, a kasambahay who started working in Metro Manila when she was 13 years old is one of the hopefuls who wanted to improve her life and that of her family through the Department of Labor and Employment's (DOLE)-6 Kabuhayan Program.
"Happy gid ako sa oportunidad nga gintugro ka DOLE. Tinguhaan ko gid nga mapabahul ang akon negosyo (I am happy with this opportunity from DOLE. I will try to make this sustainable for my family)," said Mereliza, now 36 years old, and a recipient of Food Vending Project.
She is one of the 137 identified beneficiaries in the 5th class municipality of Belison in Antique province who availed of the Php2,740,000 worth of various livelihood projects.
As DOLE accredited co-partner, the Local Government Unit of Belison facilitated the proposals of the beneficiaries who are farmers, women, senior citizens, out-of-school youths, construction and self-employed workers and laborers from all 11 barangays of the municipality which include cattle fattening, sari-sari store, hog fattening and breeding, rice and frozen foods retailing and food vending.
"The Kabuhayan Program is committed to reduce poverty in the grassroots level particularly among workers in the informal sector," said Regional Director Atty. Sixto T. Rodriguez Jr.
Rodriguez said is positive that the livelihood projects will be sustained since the beneficiaries have experiences and are into similar existing or aligned business for a long time.
Kabuhayan Program provides livelihood assistance for the poor, vulnerable & marginalized workers thru provision of working capital for the purchase of equipment and raw materials essential to the beneficiaries' projects.
Over the years, thousands of Antiqueños benefitted from the program that gradually alleviated them from poverty.
Richard Lagunday, like other recipients, is a small entrepreneur who needed additional capital to generate more income. Lagunday, a street food vendor, is one of the eight (8) beneficiaries of Food Vending Project. He started his food vending at home and hopes to expand his business with the additional inputs from DOLE.
"Bahul gid ang akon pasalamat sa DOLE sa ka diya nga Food Vending Project para ma-expand ko ang negosyo ko nga gin umpisahan ko lang sa atubang kang amon nga balay kag ka diya nakakita kami kang lugar sa baybay kon sa diin mas duro ang amon customers (I am thankful to DOLE. With this Food Vending Project, I can expand my business from my house to the beachfront)." shared Lagunday.
"Think of ways to improve and expand your business." This is the challenge of Ms. Acebuque, DOLE RO 6-Antique Field Office (DOLE RO 6-AnFO) OIC Head to the beneficiaries during the releasing of their project inputs last August 10, 2023.
"I am thankful to the Department of Labor and Employment for giving me the opportunity to put up my own business.  I will do my best to make this source of income for my family successful,' said Liza Roque, one of the beneficiaries of Frozen Food Project who received one (1) unit chest freezer and ready to cook frozen foods for sale.
To monitor the progress of the different livelihood projects provided to the beneficiaries, the Local Government Unit of Belison created the Municipal Project Monitoring Committee (MDMC) which serves as the monitoring arm of the Municipal Development Council (MDC) in the monitoring of all national and local funded projects.