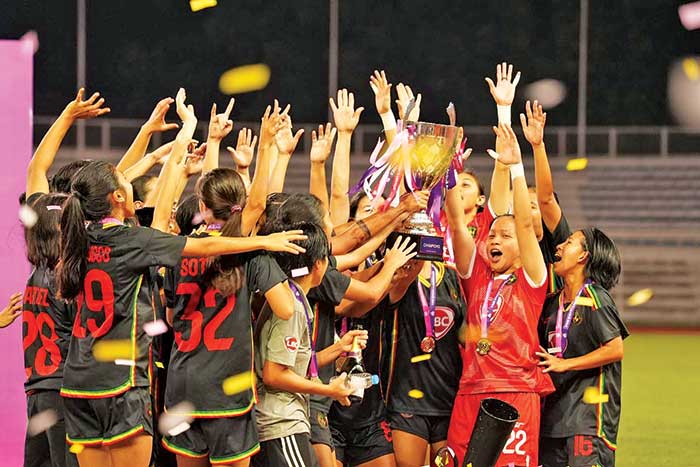 By Leobert Julian A. de la Peña
History has been made.
After several tries of conquering the Philippine Football Federation (PFF) Women's League, the Kaya FC-Iloilo squad finally bagged their first-ever championship title after nipping the Manila Digger FC, 1-0, last November 11, 2023, held at the Rizal Memorial Stadium.
Sheen Nicole Ramores converted the squad's biggest goal of the year after cashing in a kick in the 86th minute of the nip-and-tuck grand finals game.
Ramores came in as a substitute and immediately made an impact after finding the back of the net when she fired a powerful right kick inside the penalty box of Manila.
Kaya FC had trouble all game long breaking the tight and disciplined defensive sets of Manila and had to bank on Ramores who scored the lone goal of the match.
After the Ramores goal, Kaya FC then put on the finishing touches by playing the remainder of the game with intensity on the defensive end.
Despite an extension period of seven minutes whistled by the match referee when the 90th-minute mark passed, Manila still failed to equalize and could only watch the Ilonggas celebrate their breakthrough win.
Kaya FC and Manila fought toe-to-toe before the Ramores conversion and traded offensive chances that all missed the range due to the tight defensive coverage.
Every time Iloilo got past the midfield and attempted to run their scoring schemes, Manila always deployed more help in the weak side to prevent any through balls from Kaya FC.
As the match went on, the championship atmosphere became more physical but it was Kaya FC who endured the mental battle with a clutch goal.
Before setting foot in the grand finals, Kaya FC had to survive a tough De La Salle squad, 2-1, in the semifinals.
After the momentum-boosting win, Kaya FC finally had the chance to prove that they are the best team in the league.
Iloilo ended its preliminary showdown with Manila on a scoreless draw and was determined to close them out in a convincing fashion which they successfully did.