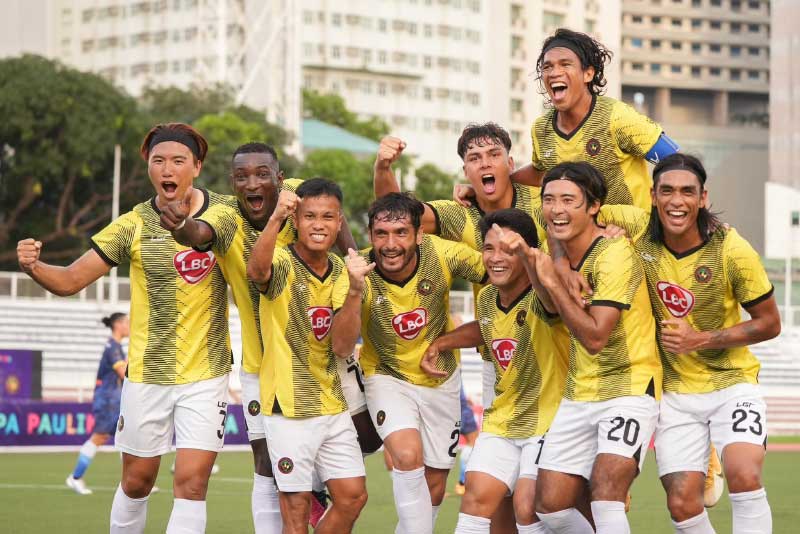 By Leobert Julian A. de la Peña
The Kaya FC-Iloilo booters just opened its Copa Paulino Alcantara title defense campaign with a convincing 7-0 victory over Loyola FC last August 12, 2023, held at the Rizal Memorial Stadium.
Fresh off a Philippines Football League (PFL) championship conference, the Iloilo-based football club showed why they are the reigning kings after obliterating Loyola FC the whole match.
It only took 11 minutes for Kaya FC to figure out Loyola's defensive schemes after drawing first blood courtesy of a Ricky Sendra conversion.
Despite the quick defensive adjustments that Loyola deployed in hopes of preventing another goal, Kaya FC proved they are just too much after team captain Fitch Arboleda scored a brace when found the back of the net in the 31st and the 42nd minute of the first half.
The scoring avalanche for Kaya FC continued nine minutes after Arboleda buried his second goal as new member Justin Baas cashed in another one in the 33rd minute of the match.
Up 4-0 heading into the second half, Kaya FC was oozing with confidence soon as the next 45 minutes kicked off.
Baas haunted Loyola with his second goal of the match only four minutes into the second half after striking a thundering kick beyond the penalty arc to give Kaya FC a 5-0 lead.
Abou Sy and Mark Swainston then joined the Kaya FC scoring party as they increased the score to a one-sided 7-0 affair.
Loyola attempted to cash in at least a goal in the remaining 30 minutes of the match but Kaya FC's tremendous defense deflected their touch-passing several times.
Arboleda was named Best Player of the Game after those momentum-clinching back-to-back goals in the first half.
Kaya FC will look to maintain its perfect start in the Copa Paulino Alcantara Cup on August 19, 2023, as they battle the Don Bosco Garelli United.