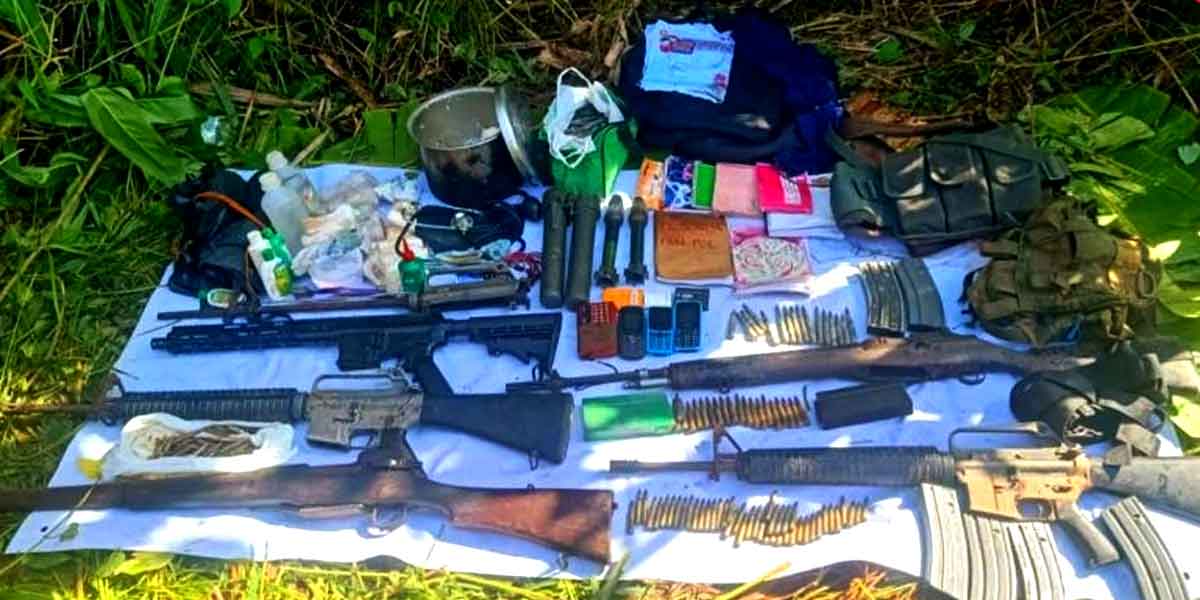 By Glazyl Y. Masculino
BACOLOD City – Indi na sila (They were not) New People's Army (NPA).
This was stressed by Jocelyn Vargas, mother of 30-year-old Christian Job Joaquin Vargas who was killed along with his live-in partner, Mylene Malasabas Salgado, 31, in a clash with military troopers at Sitio Nabalas Dos, Barangay Canlusong, E.B. Magalona, Negros Occidental last Tuesday.
An emotional Jocelyn was seen shouting and crying as she saw the bodies of her son and daughter-in-law last Wednesday, a day after the encounter.
Some family members of the couple, as well as their two children aged 1 and 5, were also seen crying in a video circulating on Facebook.
"Paano na mag NPA sila? Paano nga may armas sila? Kay gapananum lang na sila?" Jocelyn said in a radio interview, adding that the couple was on their way home after harvesting banana when she learned that they were killed in the clash.
Jocelyn admitted that her husband is an active NPA member, but she maintained that the couple and the other members of the family are not involved in the armed struggle.
"Ano labot nila kung NPA ila tatay? Himuon na lang kami nila tanan NPA? Tani indi lang nila pagdalahigon ang bata ko kay gapangabuhi kami ya normal diri," Jocelyn said.
Based on a report from the Army's 3rd Infantry Division (ID), the 79th Infantry Battalion (IB) was responding to reports from civilians about the alleged presence of at least nine remnants of the dismantled Northern Negros Front-Komiteng Rehiyon – Negros, Cebu, Bohol, Siquijor (NNF-KR-NCBS) allegedly conducting extortion activities in the area, when the clash broke out on late Tuesday afternoon.
The Army alleged that Christian of Barangay Canlusong, was a squad leader of Squad 3 and one of the remnants of NNF, while Salgado was a member of Squad 3 and also one of the remnants of NNF from Barangay Buenavista, Himamaylan City.
Military troopers recovered from the encounter site high-powered firearms including two M16 rifles, an M14 rifle, and assorted bandoliers, and other various war materiel, including an AR15 rifle, an M16 rifle, a Garand rifle, four rifle grenades, assorted live ammunition, personal belongings, and alleged subversive documents.
In response to the family's claim, Lieutenant Colonel J-jay Javines, head of Division Public Affairs Office (DPAO), said that they sympathize with the Vargas family for their loss.
Javines said they understood the reaction of Jocelyn, being a mother, to deny the involvement of her son and daughter-in-law with the NPA.
"But the fact remains that Christian and Mylene were members of the NPA," Javines said, adding that they both have legal cases filed against them in courts for murder and frustrated murder for their participation in NPA atrocities.
Javines said that the couple was also identified by their former comrades who already surrendered, which was also corroborated by revelations of the Army's informants and assets.
The 3ID said that Christian is the son of Arlo Vargas, known as Allen, one of the alleged top leaders of the NPA in Western Visayas who has a pending arrest warrant for robbery in band, with a bounty of P550,000 on his head.
Christian's brother, known as Hans, alleged platoon leader of Platoon 3 and deputy of South West Front-Komiteng Rehiyon-Negros, was killed in an encounter with the troops of the PNP's 6th Special Action Force at Sitio Balik-Balik, Barangay Tabu, Ilog town in September 2021. Hans is likewise wanted for multiple murder cases, according to the Army.
The Army said that the couple was dispatched by the Regional Operations Command (ROC) from Central Negros to reinforce the recovery efforts of the dismantled NNF.
Major General Marion Sison, 3ID commander, in a statement, said that this unfortunate turn of events should serve as a strong reminder to everyone that joining the NPA leads to nothing but harm, including the destruction of families and unnecessary loss of life.
Meanwhile, Ka Maoche Legislador, spokesperson of Apolinario Gatmaitan Command (AGC), said the couple was allegedly tortured to death by the soldiers.
The rebel group said that there was no encounter that happened since there was no presence of NPA in Barangay Canlusong.
"Wala sang mga armas kag iban pa nga kagamitan sang NPA nga nakuha sang militar. Wala sang kampo nga ila nasudlan," Legislador said in a statement.
But the Army maintained that it was a legitimate encounter.