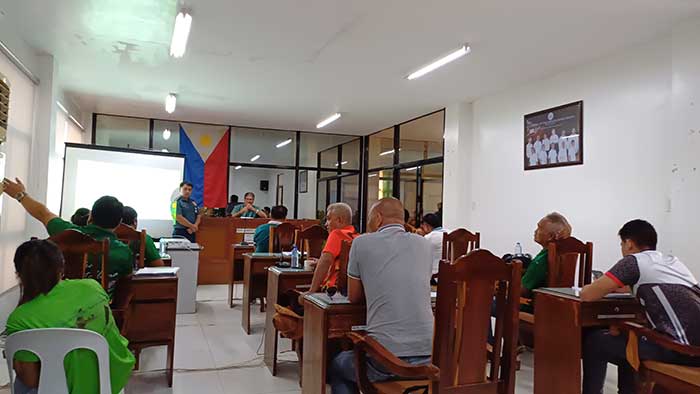 By Dolly Yasa
BACOLOD City – Several councilors in La Castellana, Negros Occidental called on their colleague who was implicated in the alleged P15-million PNP recruitment scam to show up after missing their regular and special sessions.
The La Castellana municipal council held their regular session Wednesday morning and only Councilor Donato "Natnat" Dumaguit, who is facing charges of large-scale estafa, was absent.
Councilor Leonardo Bacquian, chairman of the council's committee on rules, said Dumaguit has missed three regular sessions and two special sessions.
He called on Dumaguit to attend their session where he could have a privileged speech and explain himself, instead of radio interviews.
Bacquian further said that it was decided in their session that the case of Dumaguit would be tackled by the council acting as a committee as a whole.
"We will afford him due process, we would like also to assure him that we are here to listen to him, unless proven guilty he is assumed innocent of the charges hurled against, he should face it in court," Bacquian said.
He stressed, though, that based on the Local Government Code, three successive unexplained absences is a basis for sanction on members of city and municipal councils.
It was decided that the Sangguniang Secretary would again write Dumaguit to call his attention to his absences and give him 5 to 10 days to answer.
Bacquian pointed out that the SB secretary has already officially written Dumaguit about his absences.
The SB secretary reported that no one was at Dumaguit's home to receive the letter, Bacquian said.
Dumaguit, however, informed the SB secretary by text that he would not attend the session because of fear for his life.
"We have to look into that," he further said.
He pointed out that they cannot act outright on the case of Dumaguit's absences or immediately sanction and slap him with a dereliction of duty.
"We have to do this properly, check on our internal rules and the Local Government Code for guidance as far as the cases filed against him, that is a separate thing."
Three other councilors – Ryan Canoy, Patricio Estoya Jr., and Felipe Felix Martin Elumba – joined Bacquian in calling on Dumaguit to attend their session.
"So that we can as well get his side of the story," Canoy said.
The four councilors also lamented that they were also included in the radio tirades by Dumaguit aside from Mayor Rhummyla Nicor-Mangilimutan.
"It's unfair, he claimed that he is the only 24/7 councilor in the town, we too, are doing our job," Elumba said.
Canoy, the number one councilor, added "ga-ayo gid kami kay SB Dumaguit nga mag show up sia, open gid gihapon ang opisina, pwede gid sia ka attend sa session kag pangapinan ang kaugalingon ya."
"If he has accusations against the mayor and against us, he should prove it, he should not subject us to trial by publicity," Estoya said.
All four said they do not know the whereabouts of Dumaguit as he is nowhere to be found at his residence in Barangay Cabacungan.
Meanwhile, town police chief Major Nelson Amsiwen told the Daily Guardian on Wednesday that another victim filed a complaint against Dumagit with the police station.
The latest complaint brings the number of complainants against Dumaguit to 48.
Amsiwen said three more complainants filed large-scale estafa against Dumaguit aside from the eight last week.
Dumaguit was accused of allegedly mulcting money from the victims of about P247,000 each in exchange for an assured slot in the PNP.