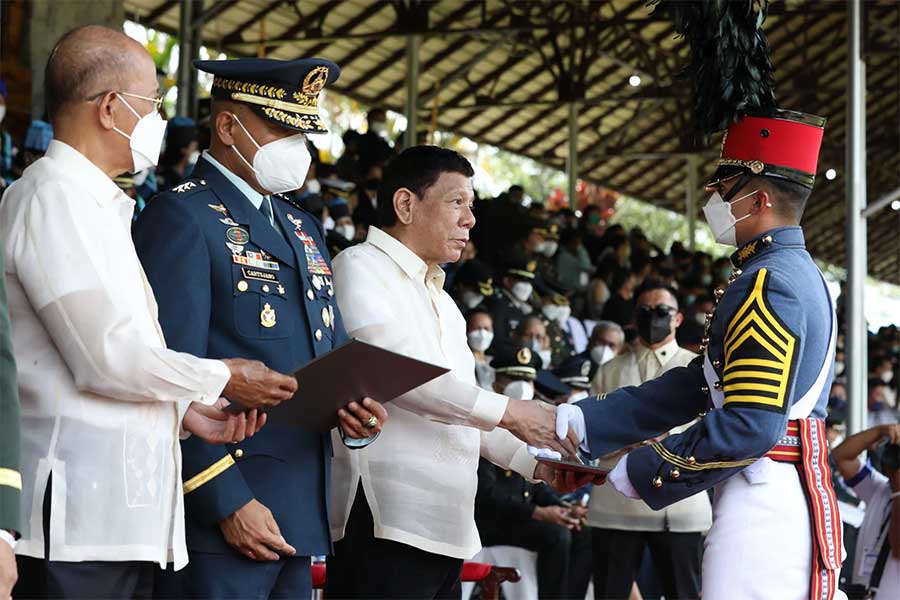 By Sean Rafio
President Rodrigo Duterte has signed into law a measure that fixes the term of office for the head and other senior officers of the Armed Forces of the Philippines (AFP).
Republic Act No. 11709, signed by Duterte on April 13 in a bid to do away with the "revolving door policy" and allow military leaders to implement reforms.
The following officers will now have fixed terms of three years, regardless of age:
-AFP chief of staff
-vice chief of staff
-deputy chief of staff
-commanding generals of the Army, Navy, and Air Force
-inspector general
-chiefs of unified commands
The President may terminate their appointment or "extend the tour of duty of the AFP Chief in times of war or other national emergency declared by Congress," according to the law.
The superintendent of the Philippine Military Academy (PMA), meanwhile, has been given a fixed term of four years, regardless of age.
"Except for the position of Chief of Staff, the PMA Superintendent shall not be eligible for any other position in the AFP and shall be compulsorily retired after completion of the fixed tour of duty or upon relief from office," according to the new law.
It added that no general or flag officer who is more than 58 years old will be appointed as PMA superintendent.