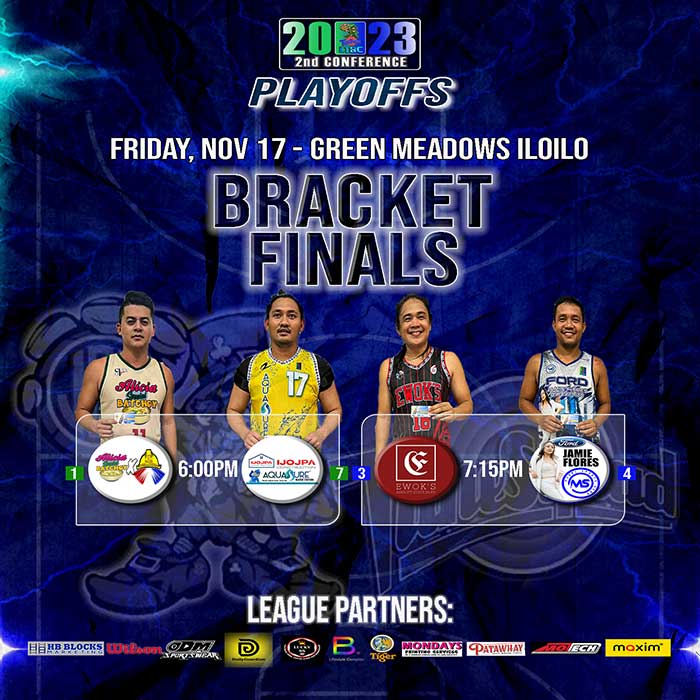 By Leobert Julian A. de la Peña
From 20 participating teams, we're down to four.
The competition couldn't get any better than this as one of the fast-emerging basketball leagues in Iloilo City, the LEPRECHAUNS x TUNESQUAD hoops club, is ready for an intense bracket finals action on November 17, 2023, at the Green Meadows basketball gym in Pavia, Iloilo.
After almost four months of grueling elimination games, team BF Trucking, Aquasure, Ford, and Ewoks will aim for the coveted championship trophy.
BF Trucking, the top team in Bracket A, will look to continue its dominance against the giant slayers, team Aquasure in the first bracket finals matchup.
Despite only finishing the preliminaries as the no. 7 ranked team, Aquasure kicked off its playoff round with two stunning victories over the no. 2 ranked Kookies team and the no. 6 ranked Vitamilk to set up a fiery clash with BF Trucking.
Meanwhile, the top-seeded BF Trucking squad repelled Dakada Café and Blue Chips and lived up to the expectations as the no. 1 team in their bracket.
Moving on to the other bracket, two heavyweight teams in Ewoks and Ford will duke it out for the ticket to the grand finals.
Ewoks will seek to carry its momentum after eliminating the no. 2 ranked ODM Sportswear/DOIS team during the semis while also taking down team Malikhain in the first round of the playoffs.
Team Ford is also on a roll heading to the bracket finals stage as they eliminated the no. 1 ranked Ragoomu team during the bracket semifinals.
During the first round, Ford also balled out and edged team Guimaras Mountain Resort, 90-85, with Rommel Alenaje leading the way with 22 points and seven rebounds.
It's game time! The first matchup between BF Trucking and Aquasure will start at 6 PM while the clash between Ewoks and Ford will be at 7:15 PM.