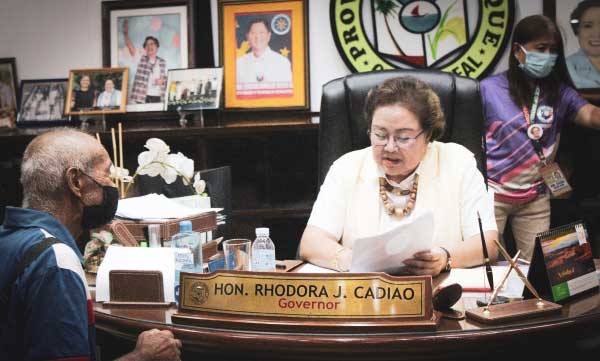 By Joseph B.A. Marzan
Antique Governor Rhodora Cadiao on Friday brushed off the warrant of arrest issued by the Sandiganbayan earlier this week, citing the disgruntlement of a provincial employee who sued her for allegedly withholding the latter's benefits.
Cadiao told Daily Guardian via text message on Friday that she would like the controversy to "die down."
"[L]et us make the issue die down first[.] [It's] a case filed against me by an [AWOL] employee, for now, let it settle first hope you understand," the governor said.
AWOL stands for absent without official leave.
Associate Justice Ma. Theresa Dolores Gomez-Estoesta, Sandiganbayan Seventh Division chairperson, ordered Cadiao's arrest on Wednesday, June 7, and set the bail at ₱90,000, after the case was raffled to her division on June 2.
The warrant was directed to the chief of the Philippine National Police, the local police chief of San Jose de Buenavista town, the Antique provincial police director, and the director-general and the regional director of the National Bureau of Investigation.
Cadiao was accused of violating Section 3(e) of Republic Act No. 3019 (Anti-Graft and Corrupt Practices Act).
The provision refers to the prohibited act of "Causing any undue injury to any party, including the Government, or giving any private party any unwarranted benefits, advantage or preference in the discharge of his official administrative or judicial functions through manifest partiality, evident bad faith or gross inexcusable negligence".
Based on media reports, the case stemmed from a 2018 complaint filed by Provincial General Services Office (PGSO) chief Antonio Dela Vega, alleging that the governor did not sign his Daily Time Record (DTR), which led to the failure of the Provincial Accountant and Provincial Treasurer of Antique in releasing his benefits.
The Civil Service Commission (CSC) has ordered the release of the benefits to Dela Vega.
The complainant also alleged that he was being constructively dismissed by Cadiao by transferring him to a satellite office in Culasi town, which was 97 to 100 kilometers away from the provincial capitol.
Deputy Ombudsman for the Visayas Paul Elmer Clemente on September 2, 2019 recommended the filing of charges against the governor, which were approved by Ombudsman Samuel Martires in October 2021.
Ombudsman Assistant Special Prosecutor II Lyn Dimayuga in the complaint alleged that a total of ₱1.66 million in benefits were owed to Dela Vega.
Daily Guardian has reached out to Dela Vega, but he has not responded as of this writing.