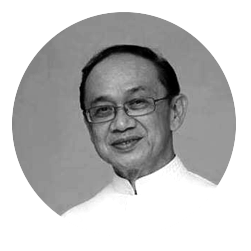 By Fr. Roy Cimagala
"Today this Scripture passage is fulfilled in your hearing." (Lk 4,21) With these words, Christ was identifying himself as the one the Jews had been expecting as their Redeemer. And the Jews could not believe him. "Is this not the son of Joseph?" they asked in disbelief.
We have to make sure that we truly acknowledge Christ as the Son of God who became man in order to save us. He is the Redeemer of all mankind. Not only that, he is the pattern of our humanity. We are supposed to be like him. In fact, we are meant to be "another Christ," having the same identity as Christ which we can achieve, first, because of God's grace, and then, of course, because also of our all-out free effort.
Everyday we have to see to it that we are becoming more and more like Christ because we share the same spirit of love and everything that is good that Christ has. In this regard, we should realize that our knowledge of God is always made alive, updated and renewed, and our eagerness to be like him burning.
Let's hope that at the end of each day, as we make some kind of accounting of how the day went, which is what we should be doing, we can truly say that we are becoming like Christ because we are becoming more patient, more compassionate, more apostolic, more hopeful, etc., etc. This should be a never-ending exercise until God himself will take us to himself.
We have to be clear about this point. We are meant to assume the identity of Christ. And that is not a gratuitous, baseless assertion, much less, a fiction or a fantasy. It is founded on a fundamental truth of our faith that we have been created by God in his own image and likeness.
And this truth of faith has been vividly shown to us since it is acted out in the whole history and economy of salvation that culminated in Christ offering his life and his very own self as the Bread of Life so we can have the eternal life with him, and so that he and us can be one.
We have to arrive at that point where we can make St. Paul's words as our own too: "I no longer live, but Christ lives in me. The life I live in the body, I live by faith in the Son of God, who loved me and gave himself up for me." (Gal 2,20)
We just have to learn to set aside whatever difficulty or awkwardness we may have in dealing with this basic truth of faith about ourselves. We have to try our best to know Christ and to adapt his very own mind and will, his own ways, behavior and reactions to whatever situation we may find ourselves in.
What is also clear is that Christ is actually already living with us. He is in us as the pattern and perfecter of our humanity, and the savior of our damaged humanity. We just have to learn to live with Christ.
He is never far or indifferent to us. Even in our miserable and wounded condition, he continues to be with us, showing us with greater solicitude. It's rather us who tend to ignore and contradict him. We need to do something about this predicament of ours.
Email: [email protected]