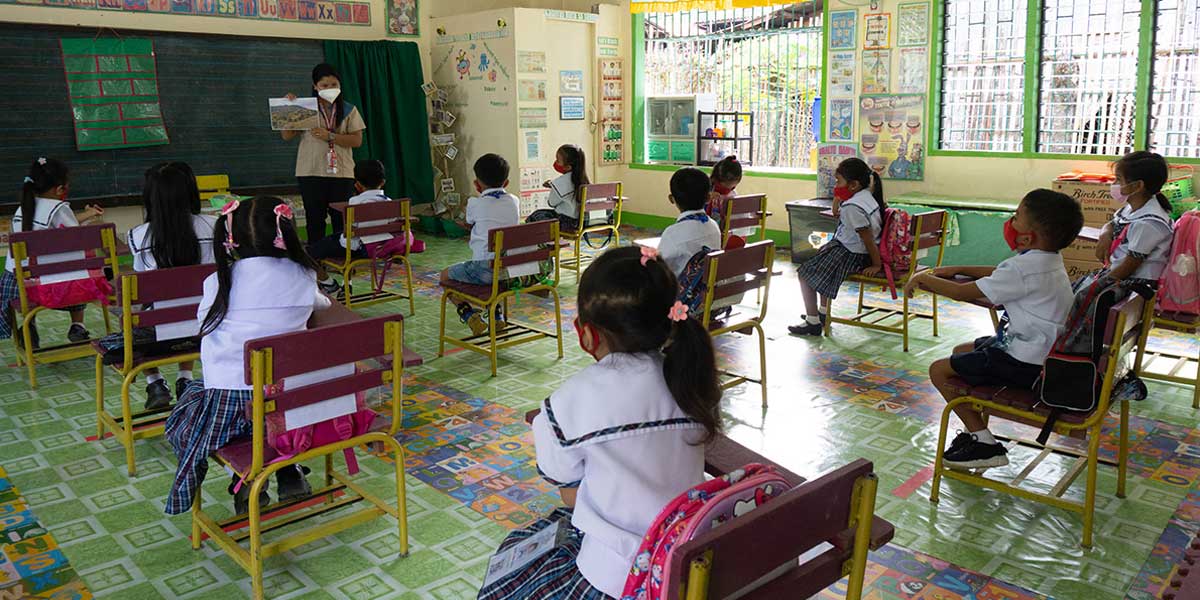 By Joseph B.A. Marzan
The Department of Education-Division of Iloilo (DepEd-Iloilo) on Tuesday hailed the holding of limited face-to-face classes in three schools in Iloilo province on Tuesday, March 1, 2022.
Cabacanan Elementary School in Alimodian, Granada National High School-Ballesteros Campus in Carles, and Palanguia National High School in Pototan saw learners for the first time since classes were suspended due to the coronavirus disease 2019 (COVID-19) on March 16, 2020.
These three schools were originally recommended in 2021 for the piloting of limited physical classes but was moved this year.
They join two private schools in the province, Gamot Cogon School and Oxmond Memorial School all in Zarraga town, which already piloted limited face-to-face classes last year.
DepEd-Iloilo Public Affairs Officer Leonil Salvilla said that the reopening of physical classes in Iloilo public schools was warmly received by local governments, learners, and parents.
"[The opening of classes] was very smooth, and we are happy because of the strong support of the local government units. So far, we have received reports from the schools, and they are also happy because of the positive turnout of the expanded implementation of limited face-to-face classes," Salvilla said.
The schools were selected based on the DepEd's School Safety Assessment Tool, a checklist needed to be fulfilled by the schools, which will determine their qualification to the pilot implementations.
Consent of parents and expression of support of local government units, as well as the present Alert Level status of their areas are also part of the consideration of the DepEd.
Schools have technical working groups which would prepare the necessary requirements to be submitted to the district and division offices for their validation.
The DepEd division offices would recommend the inclusion of schools to the program, which will be reviewed, and make the final recommendation for approval by the regional office, and would be acted upon by the central office in Pasig City.
Salvilla said that the DepEd-Iloilo's schools district offices will also closely monitor the schools in their implementation of the DepEd's guidelines as well as minimum public health standards by the local and national governments.
"The district technical assistance team in coordination with our local government units will be monitoring the schools. Like we've seen in the opening, the LGUs sent personnel to assess and continuously monitor. The parents also go to the schools to check on their children,"
He added that future reopenings of limited physical classes will depend on the areas' Alert Levels and the local COVID-19 situation.
"We are continuing to validate and monitor schools which are ready to implement limited face-to-face classes. Once there are schools that are qualified and have satisfied the requirements under issuances of the DepEd and the Department of Health, we will recommend them for pilot implementation. Hopefully before the year ends, there will be more schools who will participate," he said.