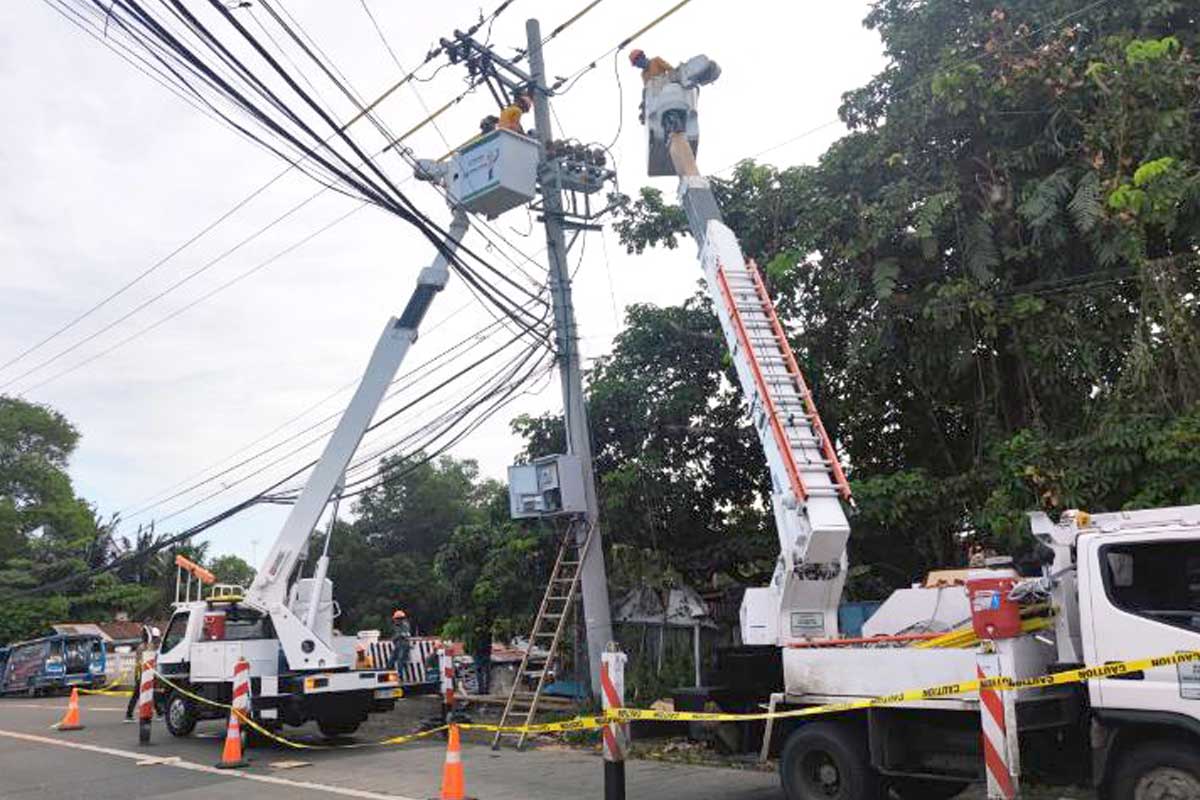 By Francis Allan L. Angelo
MORE Power's linemen are literally putting their lives on the line to improve distribution facilities while ensuring stable power supply amid the COVID-19 pandemic.
Engr. Bailey Del Castillo, MORE Power Deputy for Network Operations, said they have been training their line personnel on live-line works or hotline maintenance.
In electrical engineering, live-line working is the maintenance of electrical equipment, often operating at high voltage, while the equipment is energized.
Del Castillo said live-line work is a different level of work and function for distribution utility line personnel.
"It's a step higher of their usual work. They handle live wires while wearing gloves. These are no ordinary gloves as these are rated as high voltage gloves that can touch wires with 13,200 volts, or even higher, of electricity," Del Castillo.
The aim of live-line works is for MORE Power to deliver its pledge of upgrading distribution poles, lines, transformers, and other facilities while keeping its promise to the Iloilo City government of keeping power supply running to the homes and businesses.
Apart from the gloves and other personal protective equipment, the mobile buckets, platforms, and ladders used by the linemen are rated and insulated for live-line works.
"These are no ordinary equipment because these are insulated to protect our linemen. Communication and synchronization is also vital to coordinate their movements, especially when we're moving the lines from one pole to another," Del Castillo said.
The live-line work training began in the first quarter of 2021 and was supposed to enter phase 2 if not for the pandemic.
Apart from the organic linemen of MORE Power, its contractor Protego also employs personnel who are experts in live-line works.
Del Castillo said live-line works are critical to their plans as these lessen power supply interruptions while transferring lines, poles, and changing transformers.
MORE Power's live-line works has been instrumental in the changing of primary poles and installations of reclosers or high voltage rated circuit breakers that detect and interrupt momentary line faults. If the fault is corrected or gone, the reclosers then reconnect the affected line.
Del Castillo said they installed 20 reclosers in the city thanks to live-line works. If the usual installation procedure is used, it will mean power supply interruption in an area.
With more than 1,200 primary poles up for replacement, Del Castillo said live-line works are important to minimize interruptions while they continue with their upgrading and rehabilitation works.
"We are able to repair lines without power interruption, and no household is affected. It means longer work because only trained personnel can do it apart from certain procedures we must follow and the equipment that we use. But what is important is we continue to do improvements without violating the order of our mayor to prevent outages in the middle of the pandemic," he added.
Del Castillo said they can address the slow work pace by training more live-line workers and acquiring more equipment.