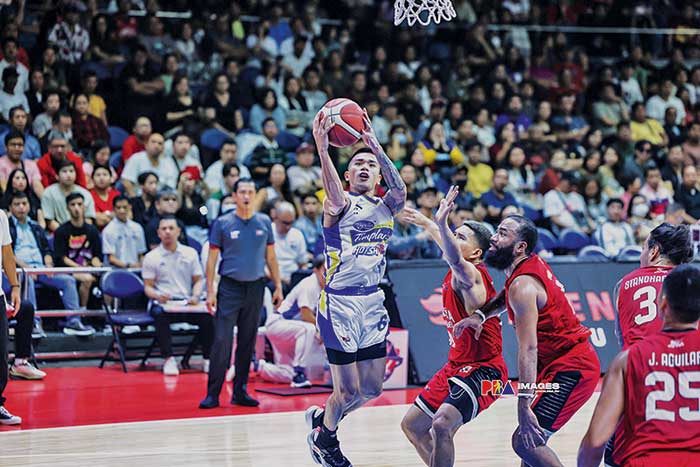 By Leobert Julian A. de la Peña
The Magnolia Chicken Timplados seemed to snatch Barangay Ginebra's never-say-die attitude after pulling off a massive 26-point comeback victory, 93-91, in the ongoing PBA Commissioner's Cup last November 19, 2023, held at the SMART Araneta Coliseum.
Down by 26 points midway through the second quarter, the Chicken Timplados looked like dead in the water as everything was just going Ginebra's way both in offense and defense.
However, Magnolia flipped the switch in the second half and got timely scoring explosions from their veterans that made the showdown interesting when they were able to cut their deficit to just single digits in the final minute of the third.
Two-way reinforcement Tyler Bey kicked off Magnolia's courageous come-from-behind effort after pummeling his way inside Ginebra's shaded lane.
After Bey's resurgence, Jio Jalalon then picked up where he left off and went on a personal scoring frenzy when he put up nine points in the last five minutes of the third canto.
Jalalon was responsible for Magnolia's counter-run that closed their third quarter on a high note, scoring nine markers while diming a ball to Ian Sangalang that put the Magnolia crowd on their feet. From a 51-69 deficit, his tremendous all-around outing helped the Chicken Timplados get to within eight points, 64-72, heading into the fourth.
Despite Ginebra draining their shots to maintain their lead to nine points, Magnolia's ball pressure and perimeter defense started to make a difference and allowed them to nab several points on the break.
With 4:02 remaining in the nip-and-tuck affair, the Chicken Timplados formally got back into the game after a Bey flip shot that equalized the clash at 83-all.
Bey continued to do damage and gave Magnolia its first taste of the lead after viciously slamming the ball in the fast break, 85-83, with 3:30 remaining.
Just when Magnolia thought they already figured Ginebra out, newly-acquired scoring guard Maverick Ahanmisi answered the call after draining a long bomb from the right corner for another lead change, 85-86.
After a completed defensive stop in the next possession, Ahanmisi took the offensive load once again and drilled another trifecta to give Ginebra back the momentum.
However, Ginebra lost their offensive touch in the last 1:25 duration of the game and only managed to score a deuce while the Chicken Timplados got crucial baskets from Mark Barroca and Bey that gave them a slim 92-91 advantage.
Ginebra had a window of opportunity after running an inbound play that freed up Scottie Thompson for a drive but unfortunately, his double-clutch shot missed which led to Jalalon entering the trip to the charity stripe.
Jalalon only made a shot out of his two attempts but time wasn't on Ginebra's side and ended the game in frustration after letting their double-digit lead slip away.
Bey had another monster outing for Magnolia after finishing the game with 31 points and 10 rebounds while energy guy Jalalon delivered 15 points, five rebounds, and three assists.
With the huge victory, the Chicken Timplados improved their perfect record to four wins without a loss while Ginebra fell to 1-1.