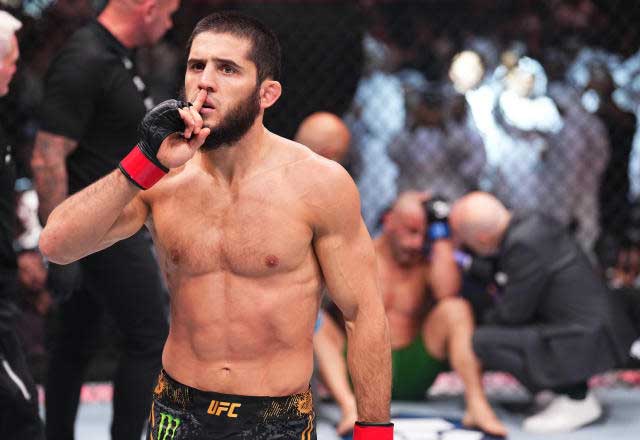 By Leobert Julian A. de la Peña
Islam Makhachev pulled off one of the most convincing victories of his professional Mixed Martial Arts (MMA) career after knocking out Alexander Volkanovski in the first round of UFC 294 last October 22, 2023, held in Abu Dhabi.
Makhachev needed this big knockout victory to shut all his doubters who said that Volkanovski should've won their first meeting way back UFC 284 last February.
A more laser-focused and determined Makhachev graced the big octagon in Abu Dhabi and only needed 3:06 to finish Volkanovski.
With only 2:01 remaining in the opening frame, Makhachev sent in a vicious left leg kick that landed straight to Volkanovski's head.
After the initial impact, Volkanovski immediately fell to his knees and was clearly disoriented by the power he felt from Makhachev's powerful leg kick.
Volkanovski was then defenseless and was officially ruled out in the first round after Makhachev followed it up with a barrage of left-arm hammer fists which forced the match referee to stop the fight.
Still in total shock at what happened, Volkanovski only sat for about a minute while watching Makhachev celebrate in front of his thousand fans.
It was all Makhachev from the get-go as the reigning UFC lightweight kings didn't allow Volkanovski to start the way he did during their first meeting.
From a super-aggressive approach last UFC 284, Makhachev completely neutralized Volkanovski's ability to send in a flurry of calf kicks and dictated the tempo of the match the whole period.
"I want to thank this guy. I told you, you have to turn off the lights to beat this guy. He's going to fight all five rounds. He'll never give up. He's a real champion," said Makhachev of Volkanovski.
With the win, Makhachev hiked his UFC record to 25 wins, one loss, and is currently on a 13-fight winning streak since September 17, 2016.