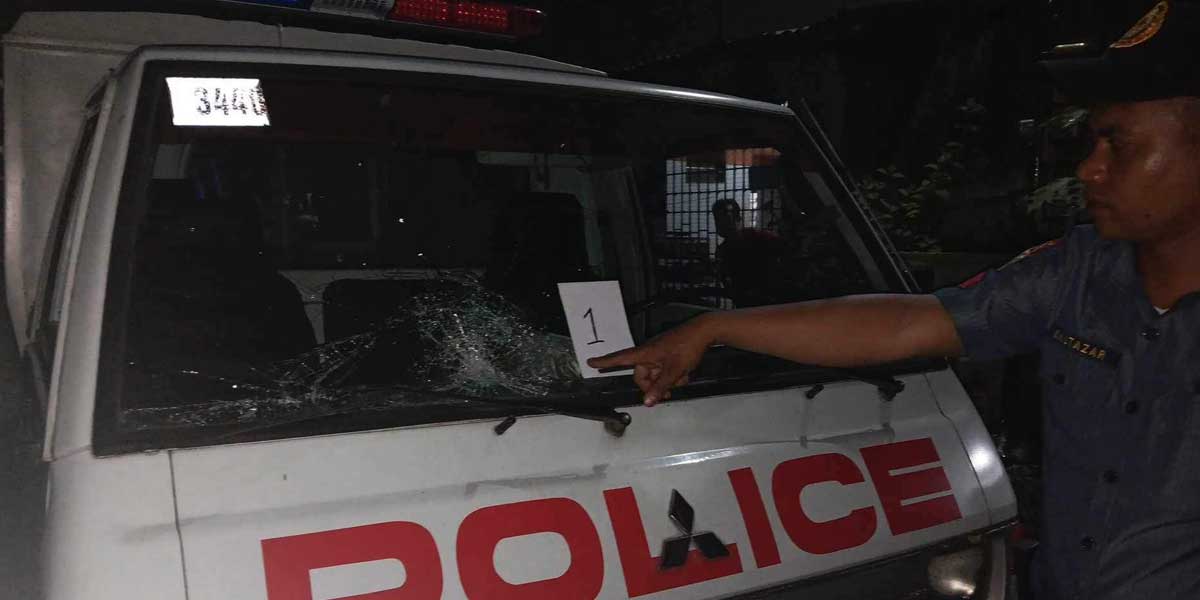 By Glazyl Y. Masculino
BACOLOD City – A man who allegedly ran amok was killed after he allegedly attacked a police car and injured a policeman in Barangay Batuan, La Carlota City, Negros Occidental last Tuesday.
Police identified the fatality as Mark Encarnacion.
Police Lieutenant Colonel Lowell Garinganao, city police chief, said that Encarnacion allegedly acted unruly while armed with a steel pipe and hit a tricycle with a passenger that was passing by the area past 7 p.m.
The tricycle driver and his passenger fled to safety. Both were unharmed, according to Garinganao.
Two policemen responded to a call for assistance. They introduced themselves, but Encarnacion came closer to the blinking police mobile and reportedly smashed its windshield on the passenger side, where Police Staff Sergeant Alexander Medina was sitting.
Two police officers tried to pacify Encarnacion to calm him down, but the latter did not stop hitting the police car until Medina was trapped in the vehicle and was wounded by the broken windshield.
Because of imminent danger, Medina drew his firearm and fired shots, according to Garinganao.
Encarnacion suffered gunshot wounds in the neck, body, and chest, the police chief added. He was declared dead in a hospital.
Recovered from the scene were a steel pipe and four cartridge cases of .9mm caliber pistol.
Garinganao said that Encarnacion came from drug rehabilitation and returned to the province in March.
He had been acting unruly for days already according to his family, he added.
"Wala ta kabalo if under the influence of liquor, or if nagka nervous breakdown siya, or droga," Garinganao said, referring to the possible factors that triggered Encarnacion to become unruly.
He added that Encarnacion was included in their drugs watchlist and had a previous record for alarm and scandal.
The family had the incident recorded, but they are waiting to make a decision if they will press charges against Medina.
Garinganao maintained that Medina did only what was necessary in the call of duty, given the dangerous situation.
"Ang ginhimo niya is trabaho, indi siling na nag tinonto siya. Work-related man to," he added.
Garinganao said that Medina has been restricted and disarmed, pending further investigation of the incident.
In reaction to the sentiments of friends and family of Encarnacion over social media about the alleged "overkill," Garinganao said that it's their allegation, but they believed that their colleagues just did what they had to do in line with their duty.
"Ang sistema abi nabulaga ang police. Ara sila sa sitwasyon na indi sila kabalo himu-on nila kay gin atake na sila. Indi na sila kagiho masyado," he said, adding that the police is willing to face the charges should the family file a case in court.
Garinganao said that Medina took cover inside the vehicle, and fired shots, assuming that Encarnacion was not hit because he was still standing and allegedly continuing to hit the police car.
Medina's companion disembarked from the vehicle when he saw Encarnacion falling on the ground, he added.
Garinganao said the gunshots were supposed to give a warning to Encarnacion.
He said that rescuers applied first aid at the scene until Encarnacion was taken to a hospital where he died.