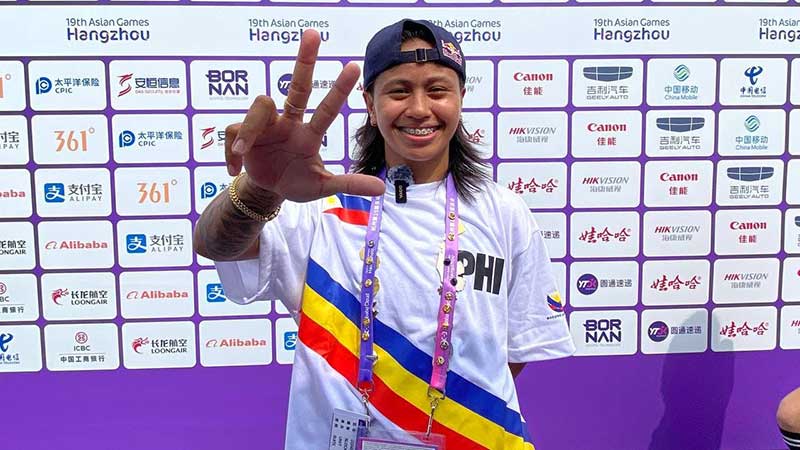 By Leobert Julian A. de la Peña
Margielyn Didal couldn't replicate her magical 2018 Asian Games skateboarding championship campaign after stumbling in this year's edition held in Hangzhou, China.
Bothered by an ankle injury she suffered last year, Didal crashed out of the women's street skateboarding event and placed eighth last September 27, 2023.
The Filipina skateboarding star was clearly seen grimacing in pain after every trick she attempted and had to withdraw in the last two phases of the best tricks category.
Didal immediately fumbled her first run after falling but was able to recover in the remaining seconds of the duration.
Things got worse for Didal in her second run, hurting her elbow when she used it to protect herself from another bad landing off a kick flip trick.
Before the best trick category started, Didal headed out to her corner and had to get her legs and ankles stretched out to ease the pain.
That then might have no effect as she stumbled in her first best trick run again but drew positives when she soared past the four-layered stare wall.
Didal attempted the same trick in her second run but just like her previous rounds, the courageous Filipina failed to end with a clean routine.
The Filipina decided to go for one last run to pull off the soaring kick flip trick but unfortunately, she fell down again and grimaced in pain.
With still two rounds remaining in the last category, Didal skipped her final runs to prevent any aggravation in her ankle and elbow injuries.
China's Cui Chenxi grabbed this edition's championship title while her fellow Chinese skateboarder Zeng Wenhui bagged the silver medal.