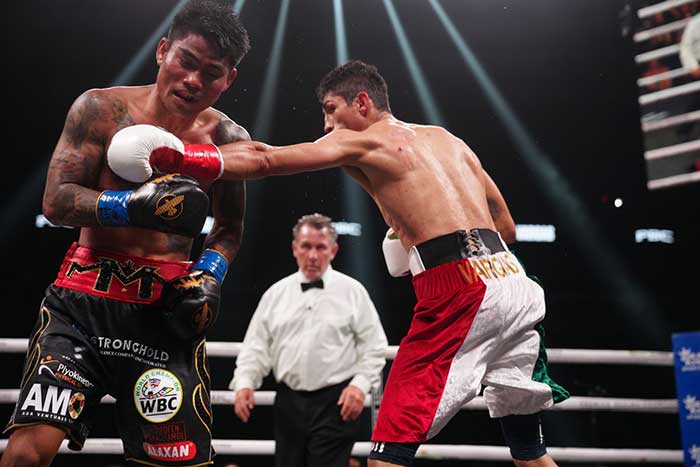 By Leobert Julian A. de la Peña                                                                       
Filipino boxing superstar Mark "Magnifico" Magsayo saw his WBC featherweight championship run end in just his first title defense after losing at the hands of Mexican Rey Vargas via split decision.
Vargas employed a classic and technical approach to negate Magsayo's punching power and used his reach advantage to outbox the Filipino champion.
Using all available angles to land his efficient jabs, the Mexican relied on his volume of punches that helped pile up his scoring tally for 12 straight rounds.
Despite Magsayo closing in the distance at the start of the fifth round, his lack of follow-up attack after unleashing his big right hand caused him a few opportunities for better combinations.
Vargas was disciplined enough in the whole duration of the match and stuck with the jab game that put him up on the unofficial scorecards by a wide margin.
However, during the ninth round, Magsayo was quick to turn things around after scoring the first knockdown of the match.
As Vargas was approaching to throw a 1-2 jab-straight combination, Magsayo perfectly timed his moment to cut the distance and threw a vicious right hand that dropped the Mexican.
Magsayo quickly pounced on Vargas and threw wild hooks but the Mexican veteran was wise to backpedal and put himself away from danger.
Just when the Filipino pug was gaining more momentum in the championship rounds, Vargas came back to his plan A and revolved his attack through jabs and counter-punching.
Magsayo failed to score another knockdown which he badly needed to edge Vargas in the scorecards and maintain his championship title.
Vargas' win over Magsayo made him a two-division world champion since vacating the super bantamweight weight class for the featherweight.
Meanwhile, this is Magsayo's first-ever professional loss in his boxing career and is looking to bounce back and challenge Vargas to reclaim his championship belt after losing a tightly-contested title bout.