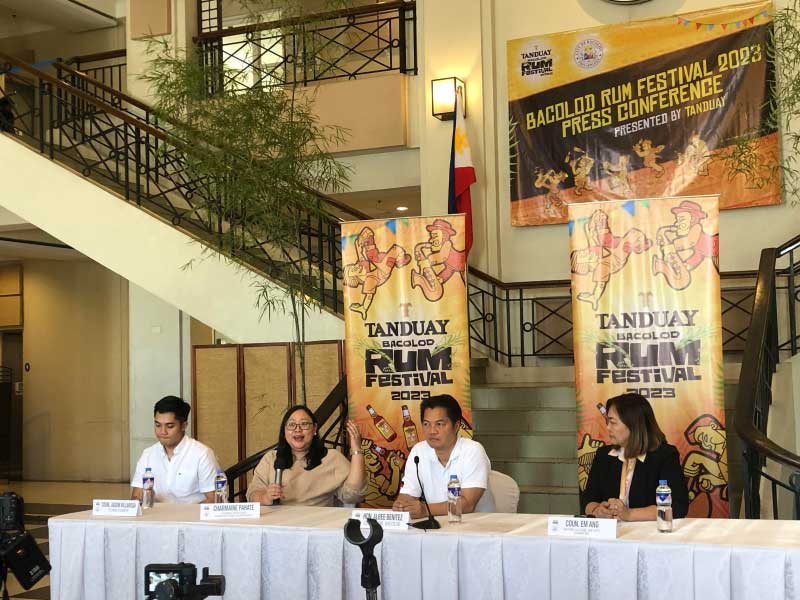 By Glazyl Masculino
BACOLOD CITY – Mayor Alfredo "Albee" Benitez said the city government would like to enhance the branding of Tanduay Rum and the city on the global stage.
Benitez made the statement during a press briefing on the staging of this year's Rum Festival here at the lobby of the Bacolod City Government Center (BCGC) last Wednesday.
Benitez said that councilors may probably seal the brand or the prestigious name by passing an ordinance recognizing Tanduay as a key contributor to the city. "Seals our place as being home to the world's no. 1 rum," he added.
Benitez said that Bacolod being home to the world's no. 1 rum has a huge impact in terms of awareness on the city.
"Every time somebody drinks rum in other parts of the country, they should be thinking Bacolod," he added.
Benitez said they proposed to the City Tourism Office to intertwine Bacolod with Tanduay by suggesting a logo of the "City of Smiles" in all bottles of Tanduay.
"Attached to its brand is the place. We are not just talking Philippines, but worldwide," the mayor said, adding that this is another prestige for the city that we can be proud of.
Benitez thanked Tanduay for calling Bacolod as their home, as this will bring a lot of attention and tourists to the city.
"Worldwide, you have that recognition and visual of Bacolod, part of being the no. 1 rum in the world. Maybe we can work out something," he said.
City Tourism Officer Teresa Manalili said that one of their initiatives is to do a business-to-business component to promote the Rum Festival here.
Manalili said that the said initiative was anchored on promoting the city as a destination to entice people to come to Bacolod with or without a festival.
The local government is preparing for the staging of the 3rd Rum Festival here, which will run from August 12 to 20.
Councilor Jason Villarosa said the city has allocated P340,000 to support this year's festival.
However, Charmaine Pahate, managing director of Eggshell Worldwide Communications Incorporated, said that she has no idea about the total amount allocated by Tanduay for the said event.
"It's a collaboration of different companies but Tanduay is primarily the one contributing," she added.
The festival was first celebrated in 2019 to pay homage to the sugarcane industry of Negros Occidental. However, it was suspended in 2020 and 2021 because of the Covid-19 pandemic.
Last year, the festivity returned, refueling the city's tourism economy.
Meanwhile, Benitez said the city will monitor kiosk operators to follow the age limit in terms of serving liquor.
This will prevent minors from drinking alcoholic beverages during the festivity.