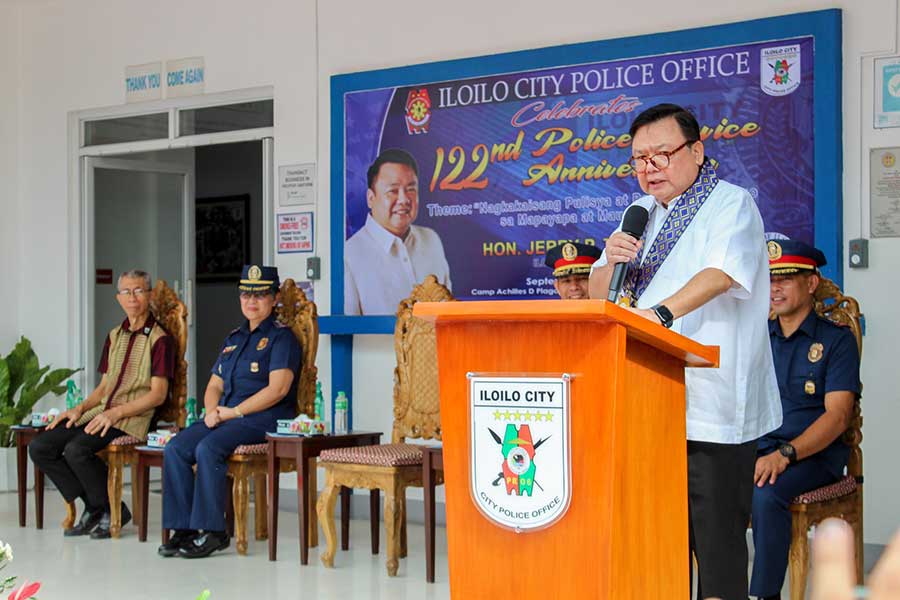 By Jennifer P. Rendon
The aggressive anti-illegal drugs campaign of the Iloilo City Police Office (ICPO) has gained praise from no less than Mayor Jerry Treñas.
Treñas expressed his appreciation during the ICPO's 122nd Police Service Anniversary celebration at the ICPO headquarters in Camp Plagata, Gen. Luna Street, City Proper district on Wednesday, September 27.
Treñas, who was the event's guest of honor and speaker, said that he is "very happy with the performance of the ICPO."
"Bisan ano pa ang hambal nga damo ang nadakpan, maayo gani kay nadakpan," he said.
Treñas said he received reports from some quarters expressing concern about the volume of seized drugs and the number of arrested persons.
He said the public should be thankful that the police are performing their role.
"Ti kung waay nadakpan, indi kita concerned? Kung waay nadakpan, kundi ara na sa dalan. Pasalamatan ta ang kapulisan naton kay nadakpan kag pasalamatan naton kay dako ang nadakop," he said.
Based on records, ICPO conducted 303 anti-illegal drugs operations from January 1 to September 26, 2023.
The number is around 18.73 percent of the 1,681 anti-narcotics operations mounted by the Police Regional Office (PRO)-6 in the same period.
Negros Occidental Police Provincial Office (NOCCPP) has still the most number of operations at 620 while Bacolod City Police Office (BCPO) had 374 operations.
On the other hand, Iloilo Police Provincial Office (IPPO) conducted 232 operations.
However, it is worth noting that ICPO seized the most quantity of shabu.
ICPO units were able to recover 10.166 kilograms of shabu with a standard drug price of P69.133 million.
It outperformed Bacolod City PO, which seized 9.994 kilos of shabu valued at P67.959 million.
NOCPPO hauled 5.021 kilos of shabu worth P34.144 million while IPPO confiscated 4.719 kilos of shabu valued at P32.091 million.
Meanwhile, Treñas cited that this year's celebration, "Nagkakaisang Pulisya at Pamayanan Tungo sa Mapayapa at Maunlad na Bansa" speaks volumes about the essential partnership between the police force and the community they serve.
It highlights their shared commitment to building a safer, more prosperous, and harmonious society.
"We also take the time to acknowledge and commend the outstanding efforts of our men and women in uniform. The Philippine National Police plays a vital role in maintaining peace and order. Their dedication and commitment are the cornerstones of a safer Iloilo City," he said.
Treñas has again highlighted that the peaceful and prosperous path they tread requires the partnership and cooperation of the entire community.
He also called on the public to continue working hand in hand with the city's dedicated police force.