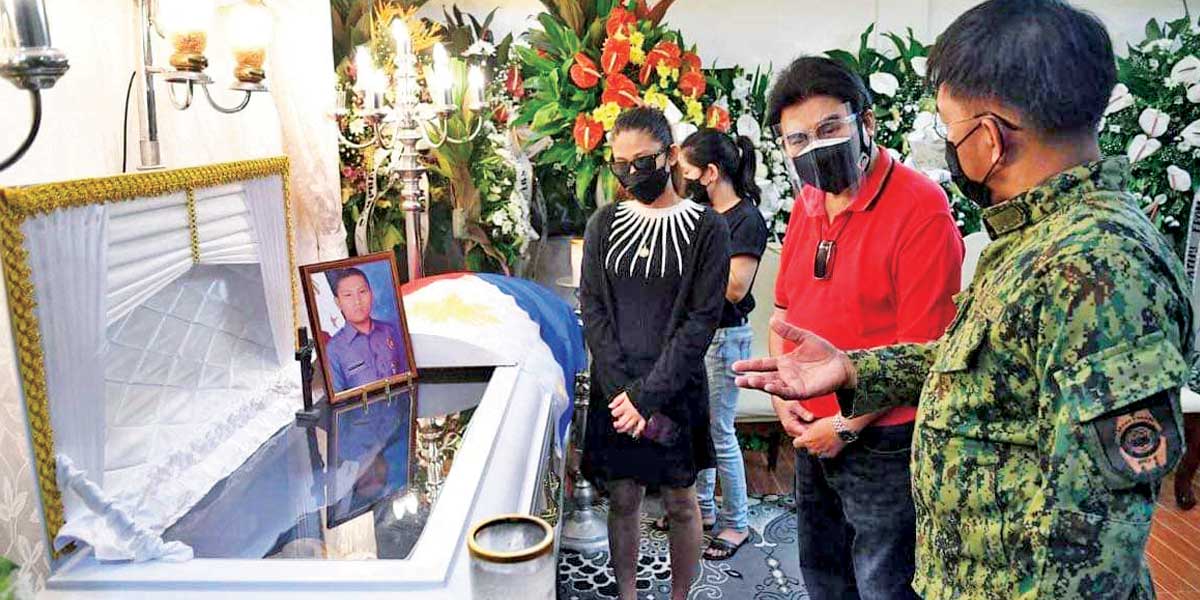 By Dolly Yasa
BACOLOD City – Mayor Evelio Leonardia said he asked PNP Chief Gen.Guillermo Eleazar to dig deeper into the death of a policeman who was gunned down by riding in tandem suspects early this week.
Leonardia said he talked to Eleazar by phone together with Bacolod City police director Col. Manuel Placido.
Leonardia visited the wake of Staff Sergeant Joseph Nepomuceno, 37, in Barangay 14 to personally condole with his partner, Janet Frias, with whom he had a three-year-old child.
Leonardia extolled Nepomuceno for being an exemplary member of the Bacolod City Police Office, citing his honesty, bravery and integrity in the war against illegal drugs.
The mayor, who executed a snappy salute before Nepomuceno's casket draped with the Philippine flag, told the policeman's widow that he personally asked Eleazar's help in the case.
"I salute him for a job well done. The people of Bacolod are grateful for his service," he added.
Frias thanked the mayor as she also cried for justice on behalf of the family.
Also at the wake were Col. Placido, Police Lieutenant Colonel Lester Leada, deputy city director for operations; Station 1 chief Major Ramil Sarona, and barangay officials.
"This is a very sad incident. I came here to express my heartfelt condolences to his family. It is sad for Bacolod because we lost a valuable asset in our fight against illegal drugs," Leonardia said.
Nepomuceno, a member of the BCPO City's Drug Enforcement Unit, is an exemplary performer based on the sentiments of his peers, the mayor pointed out.
"He was an industrious, dedicated policeman. He valued honesty and integrity. His sense of duty and commitment to his tasks are admirable. He was even highly regarded by his neighbors and was a homebody when not on duty," Leonardia said.
Nepomuceno's killing was well planned, probers noted.
Nepomuceno was gunned down by motorcycle-riding suspects along Rosario Street in Barangay 38.
He was responding to a job-related call about an ongoing drug trading activity when he was waylaid.