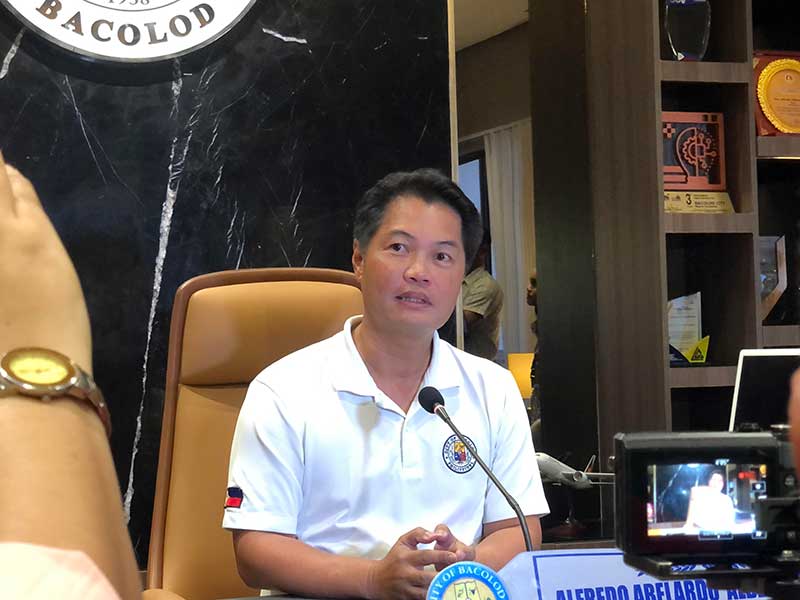 By Glazyl Y. Masculino
BACOLOD City – Mayor Alfredo "Albee" Benitez said that he will ask the City Council to hold in abeyance their investigation on the alleged corrupt activities in the Bacolod Traffic Authority Office (BTAO).
Benitez, in a press briefing at the Bacolod City Government Center (BCGC) yesterday, said that he will be sending a memorandum order to the City Council regarding the matter.
Benitez said that he has tasked the City Legal Office (CLO) to do the proper investigation. "After 10 days, we will give our report," he added.
Benitez said that he had asked Atty. Romeo Carlos Ting Jr., CLO head, to investigate and do impartial findings to determine the truth.
The Bacolod City Council has earlier approved a resolution authored by Councilor Al Victor Espino, creating an investigative body to inquire about the alleged illegal and corrupt activities in the BTAO.
The call for investigation came after Espino, chairman of the Committee on Laws, said that they received several reports regarding the alleged illegal activities conducted by the BTAO, especially with the release of the impounded motor vehicle.
However, then BTAO officer-in-charge Police Major Junji Liba, maintained that there was no corruption under his stint.
Following this controversy, Benitez has appointed Executive Assistant I Patrick Lacson as the new officer-in-charge of BTAO effective November 1, replacing Liba, who now holds only one position as deputy chief of the Traffic Enforcement Unit (TEU).
"This is not as whimsical on my part," Benitez said, adding that there are certain complaints and issues that were raised which require an impartial investigation. "In the meantime, it's better that we have another officer-in-charge," he said.
Benitez said that they submitted three folders of complaints to BTAO a couple of months ago, but Liba did not respond to any of them until his termination from the BTAO. "These are the things considered as reasons for the action," he added.
"At the end of the day, it all boils down to trust and confidence," Benitez said, adding that for any public official, public trust goes beyond what is standard. "We would like to portray na tanan na public officials are above standard. I'm asking everybody to step up and come up with their best foot forward to ensure that public trust is beyond doubt," the mayor said.
Benitez said that Lacson was already a consultant prior to his designation in the BTAO. "Kita niyo naman kung ano ang nahimo niya during the time when he was a consultant, and we would just like to bring this further and implement ang mga ideas and management styles sa BTAO," he added.
For his part, Lacson said that he will be very transparent, as he stressed zero corruption under his stint. "Gin prangka ko sila, indi ko mamuyayaw, indi ko magbinastos, indi ko magpamahog, pero kung makasala kamo kag kung madakpan kamo na may corruption, pasensyahanay ta," Lacson warned the BTAO personnel.
Lacson said that he created a council within his department for "check and balance" of everything that he would decide on. BTAO has almost 300 personnel, according to Benitez.
Meanwhile, aside from the alleged corruption in BTAO, Espino and a BTAO personnel under Liba's stint, also figured in a rift that led to threats of shooting and bodily harm. A case which the Bacolod City Police Office (BCPO) has probed.
Benitez said that he has the investigation report from the BCPO, but he refused to elaborate further, stressing that the incident between Espino and the BTAO personnel is already beyond his jurisdiction, as the case has been filed in court.
CITY ADMINISTRATOR RESIGNATION
Benitez said that he will soon announce the replacement of Atty. Pacifico Maghari III, who recently resigned as city administrator.
Benitez has expressed his gratitude and admiration for the service rendered by Maghari, who had served the local government for one year and four months.
He said that he respects Maghari's decision, which had been under consideration for the past two months. In light of family-related concerns, the mayor offered his wholehearted support to Maghari's decision.
With this departure, Benitez revealed that a meticulous consideration process is underway, with a shortlist of candidates being thoroughly evaluated.
"𝘔𝘢𝘺 𝘢𝘳𝘢 𝘯𝘢 𝘬𝘰 𝘯𝘨𝘢 𝘨𝘪𝘯𝘢 𝘤𝘰𝘯𝘴𝘪𝘥𝘦𝘳. 𝘔𝘢𝘺 𝘢𝘳𝘢 𝘯𝘢 𝘬𝘪𝘵𝘢 𝘴𝘩𝘰𝘳𝘵𝘭𝘪𝘴𝘵 𝘯𝘨𝘢 𝘨𝘪𝘯𝘢 𝘭𝘢𝘯𝘵𝘢𝘸. 𝘛𝘩𝘪𝘴 𝘪𝘴 𝘢 𝘷𝘦𝘳𝘺 𝘪𝘮𝘱𝘰𝘳𝘵𝘢𝘯𝘵 𝘱𝘰𝘴𝘪𝘵𝘪𝘰𝘯 𝘣𝘦𝘤𝘢𝘶𝘴𝘦 𝘵𝘩𝘪𝘴 𝘪𝘴 𝘳𝘦𝘢𝘭𝘭𝘺 𝘢𝘯 𝘢𝘭𝘵𝘦𝘳 𝘦𝘨𝘰 𝘴𝘢𝘯𝘨 𝘔𝘢𝘺𝘰𝘳 𝘢𝘯𝘥 𝘴𝘰 𝘪𝘵 𝘩𝘢𝘴 𝘵𝘰 𝘣𝘦 𝘢 𝘱𝘦𝘳𝘴𝘰𝘯 𝘸𝘩𝘰 𝘵𝘩𝘪𝘯𝘬𝘴, 𝘢𝘤𝘵𝘴 𝘢𝘯𝘥 𝘱𝘦𝘳𝘧𝘰𝘳𝘮𝘴 𝘵𝘩𝘦 𝘴𝘢𝘮𝘦 𝘸𝘢𝘺," he said.
He said that he will make the announcement on November 15.