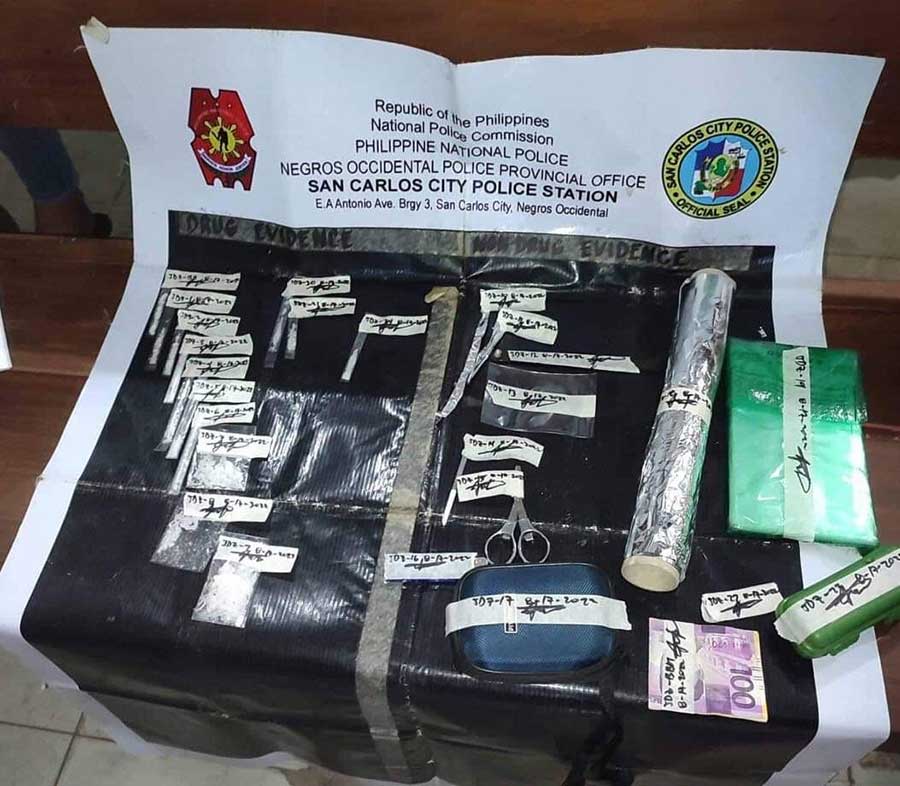 By Glazyl Y. Masculino
BACOLOD City – A son of a town mayor in Negros Occidental was among the three persons arrested in a buy-bust operation in Barangay 6, San Carlos City last Wednesday.
The subject of the operation was identified as Chito Atienza, 46, of the said village, a "street level individual."
The operation also led to the arrest of Nestor Era Jr., 40, son of Calatrava town Mayor Marilyn Era; and Rosalia Nemenzo, 60, both residents of Calatrava.
"It so happened na ining duwa ari ni sa sulod balay sang subject," said Police Lieutenant Colonel Jesus Mesahon Jr., San Carlos City police chief.
Police recovered from Atienza 10 sachets of suspected shabu, and drug paraphernalia.
Confiscated from Nemenzo and Era were two sachets of suspected shabu and an aluminum foil, and a sachet of suspected shabu, respectively.
The seized substance weighed 15 grams and was valued at P102,000.
Mesahon said Nemenzo and Era were also considered "street level individuals."
According to Police Lieutenant Ruby Aurita, public information officer of San Carlos City Police Station, Atienza was previously subjected to a buy-bust operation but he escaped.
In 2019, police served him an arrest warrant for his drug offense, but he was later released, Aurita said.
Police are checking the status of Atienza's case and how was he able to get out of jail.
Aurita said that Atienza hires Nemenzo to do laundry work at his house.
"Ining si Nemenzo labandera ni siya ni Atienza, gakadto lang siya kung may lalabhan, pero manicurista ni siya," she added.
Aurita also said that Nemenzo is an alleged habitual user of illegal drugs.
Era, on the other hand, is not part of their monitoring, but he is an alleged drug user, per report from the Calatrava town police.
"Nakibot na lang ang operative ta na ara siya sa balay ni Atienza, and per allegation niya, since naga-ulan kagab-i, nagpasilong daw siya," Aurita said.
In a phone interview, Mayor Era said that her son should face the consequences of his action.
"Kabalo na na siya kinsa maayo, and dili maayo. Karon, kung naka violate man siya, agwantahon niya kay iya na decision," the mayor said.
Mayor Era said that despite her reminders, her son continued with his ways.
"Ako as a parent, wala ko nagkulang sa reminders sa iya. Kabalo na siya wala gid ko magkulang. Wala gid ko naga konsinte sa buhat na indi maayo. Natabo na na, wala na ako mahimo ana," the local chief executive said.
Mayor Era said she felt sad about what happened, but "we have to accept the truth," she added.
Despite what happened, Mayor Era said that she is willing to help her son.
"Ang aku-a lang, kung may mabulig ko sa iya, tabangan ko siya kay anak ko siya," she added.
Police are preparing the filing of charges against the three suspects, who have yet to be reached for comment.
In Kabankalan City, two cousins who just finished their drug rehabilitation program were arrested in a buy-bust operation in Barangay Hilamonan, Kabankalan City last Tuesday.
The drug sting resulted in the confiscation of P20,400 worth of suspected shabu and some drug paraphernalia.