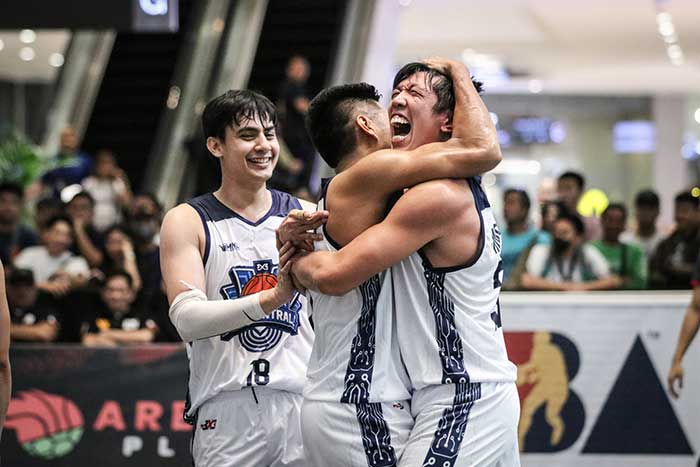 By Leobert Julian A. de la Peña
The MCFASolver Tech Centrale squad stunned the whole PBA 3×3 scene after capturing the Leg 4 championship title last November 7, 2023, held at the Ayala Mall Manila Bay.
Despite gracing the tournament as first-timers, the Tech Centrale quartet performed at a high level to outduel the Meralco Bolts, 21-20, during the thrilling championship game of Leg 4.
Former San Miguel Beermen 5×5 forward Louie Vigil held the fort for team MCFASolver and top-scored the game with 12 big points.
MCFASolver rode Vigil's hot hands after helping them take an early advantage before Meralco came back with a scoring barrage.
Jeff Manday of Negros Occidental stepped up for Meralco and torched MCFASolver midway through the game which kept the game interesting in the final five minutes of regulation.
Every time Vigil scored a bucket, the former superstar of the Colegio de Sta. Ana de Victorias responded which was enough to keep Meralco within striking distance.
The huge moment then came in the last 35 seconds of the game after big man Yutien Andrada delivered in the clutch for MCFASolver that won them the game.
With only 33 seconds left, the experienced center was fouled and was tested in the charity stripe. Despite the pressure and the loud crowd, Andrada calmly buried both attempts for the championship trophy.
Andrada only tallied two total points in the finals but those two tries from the free throw line were the most important shots that helped MCFASolver clinch their first-ever PBA 3×3 championship.
The Tech Centrale took home the ultimate prize of 100,000 pesos after raising their trophy while Meralco bagged 50,000 pesos as second-placers.