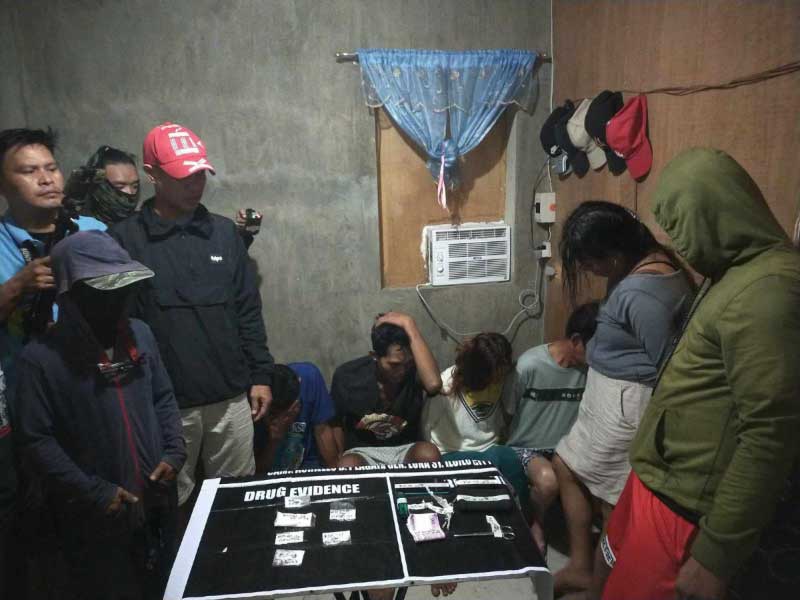 By Jennifer P. Rendon
Law enforcers and media workers agree with the proposal to amend the law requiring the presence of media workers in inventories of items seized during anti-illegal drug operations.
Since 2018, there had been a formal request to amend Republic Act No. 9165 or the Comprehensive Dangerous Drugs Act of 2002.
Section 21 of the law states: "(1) the apprehending team having initial custody and control of the drugs shall, immediately after seizure and confiscation, physically inventory and photograph the same in the presence of the accused or the person/s from whom such items were confiscated and/or seized, or his/her representative or counsel, 'a representative from the media' and the Department of Justice (DOJ), and any elected public official who shall be required to sign the copies of the inventory and be given a copy thereof…".
Weighing in on the pros and cons of having media personnel on their drug operations, Police Lieutenant Colonel Antonio Benitez Jr. said he would personally prefer not compelling media personnel to witness drug inventories.
Benitez, the current chief of the Iloilo City Police Office (ICPO)'s City Drug Enforcement Unit (CDEU) and City Intelligence Unit, used to head the Regional Police Drug Enforcement Unit (RPDEU) 6 and deputy chief of the Regional Intelligence Division 6 (RID-6).
He was also assigned as chief of police in Negros Occidental.
"We would have wanted media to be present to witness police operations because they would stand to support our statement," he said.
Unfortunately, though, there are reporters who fail to attend court hearings.
Benitez said that it might contribute to the case's dismissal.
"We couldn't compel them to attend court hearings, especially if they are no longer connected to any media organization or they have worked abroad," he said.
There is no law that impels media personalities to attend court hearings when they stand as witnesses in drug inventories, Benitez noted.
"And given that we don't have authority over them or we couldn't force them to attend, it's better that they should not be made to witness drug inventories," he said.
On top of that, Benitez noted that there are only a few media personalities in Iloilo City who are willing to stand as witnesses in drug inventories.
He said that they have a hard time looking for a media witness if several police units conduct drug operations at almost the same time.
But Benitez said he has no opposition to letting media join in their operations.
So far, though, he noted that he has not handled any case that was dismissed because of the media's absence in court hearings.
Instead of media personalities, Benitez would rather have barangay officials stand as witnesses since the Department of the Interior and Local Government (DILG) could compel them to attend court hearings.
The same goes for personnel under the Department of Justice.
Major Mary Grace Borio, Police Regional Office (PRO)-6 spokesperson and a former newspaper reporter, said that it might benefit both media and the police if the latter would be taken out as a witness during drug inventories.
"Some of the drug-related cases are resolved longer. There are media personalities who are no longer connected with the media before the court could hand down their verdict," she said.
Angel Mae Ciudad, a police beat reporter of Aksyon Radyo Iloilo, said that she personally wanted media personalities to be taken out of the equation during media inventories.
"On several occasions, we don't see the actual operation and we are just made to sign the seized items as declared by the police. And yet, we are testifying that they are the actual things taken from the suspects," she said citing the legitimacy of a few operations.
Ciudad added that it also inconvenienced them to appear in court.
"It's one thing to sign and another to be summoned by the court," she said.
In her case, they have a company policy that prohibits them from witnessing drug inventories.
Alexandra Luise Escalante, a report of Radyo Bandera-Iloilo, talked of the hassles in appearing in court.
"Sometimes, there's a conflict with our work. We're not exempted from work even though we have court duties," she said adding, "We can't commit to stay for the entire duration of the hearing."
Ruby Silubrico, a police beat reporter for more than two decades, said witnessing drug inventories might place some reporters in danger.
"We're talking here of drug operations. Some suspects might take it against us if we stand as witnesses during inventories," she said.
But all of them favor allowing media personalities to embed in anti-drug operations.