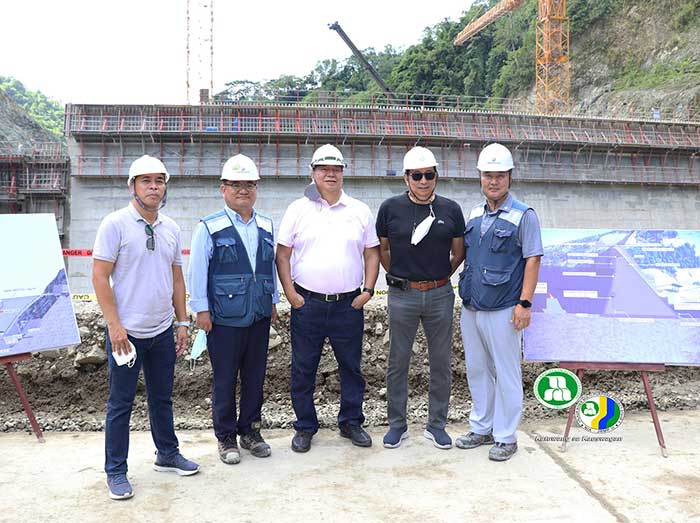 Iloilo's biggest and most anticipated irrigation development project is already half complete.
The Project Management Office (PMO) of Jalaur River Multi-Purpose Project Stage II (JRMP II) revealed that as of May 2022, its overall physical accomplishment was already 50.06%.
This covers the ongoing construction of the dams, canals and other irrigation facilities, and environmental and social components of the project.
The construction of the dams was non-stop since it kicked off last 2021.
As of May this year, the High Dam, the main reservoir of the project, was already 42.1 meters high from its foundation, out of its 109 meters structural height. This is a substantial improvement from its previous rate of completion of 33.1 meters as of March 2022, as initially reported by the PMO.
Once completed, the High Dam will store an estimated of 250.70 million cubic meters of water in its reservoir that will be utilized for irrigation, hydropower, bulk water, inland fishery, and eco-tourism purposes.
Meanwhile, works on the 38.5-meter Afterbay Dam, the project's regulating dam, are also incessant, hence as of May 2022, the actual height of the dam is already 20 meters from its foundation.
Aimed to be completed by the end of the December 2022, the Afterbay Dam will be the second dam under JRMP II to be completed, next to the Alibunan River Catch Dam.
The implementation of the irrigation component which includes the High Line, Main, and Lateral Canals also continues. Construction activities for the 80-kilometer High Line Canal, the main conveyance structure of JRMP II presently covers the towns of Calinog, Lambunao, Janiuay, and Cabatuan.
The project's milestone was announced by the National Irrigation Administration (NIA), the lead implementing agency, during the 62nd year anniversary of Republic Act 2651 on June 18, 2022. The law passed last 1960 laid down the foundation for the construction of the Jalaur River Multi-Purpose Project in the Province of Iloilo.
No less than Senate Minority Floor Leader and staunch supporter of JRMP II Senator Franklin M. Drilon conducted an ocular inspection of the ongoing construction activities in the Jalaur High Dam and Afterbay Dam in Calinog town to commemorate the law's enactment.
It was the first time for the outgoing Ilonggo Senator to visit the construction site after the project's groundbreaking in 2019.
Happy and satisfied with the implementation of the project, Senator Drilon said that the realization of this decades old dream is a feat for the people of his beloved Province and City of Iloilo.
Mega in benefits and opportunities, JRMP II is a much-needed project for every Ilonggo family. Once completed, the project will bolster rice production to an estimated 338,874 metric tons per year equivalent to a 71.54% increase from its current production of 197,545 metric tons. Apart from irrigation, JRMP II will also generate other benefits such as hydroelectric power, bulk water, eco-cultural tourism, flood mitigation and employment. (JRMP II PR Team/Steve Cordero)