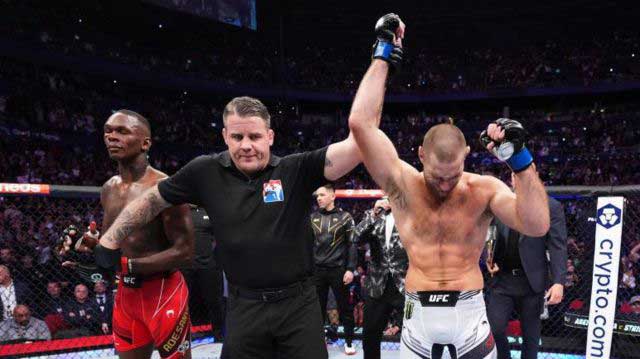 By Leobert Julian A. de la Peña
Former Ultimate Fighting Championship (UFC) star Michael Bisping couldn't hold back his thoughts after Israel Adesanya failed to defend his middleweight belt against Sean Strickland during the main event of UFC 293.
In an expected dominant performance for Adesanya, everyone in the UFC including president Dana White were in shock after he was schooled by Strickland, showing off a different level of striking for five straight rounds.
Bisping immediately threw jabs at Adesanya, saying that the former middleweight title holder showed an "air of arrogance" during the fight.
During the TNT Sports Fight Week, Bisping said that he wasn't impressed with the overall performance of Adesanya and could've been better, especially coming off a stellar knockout win over arch-rival Alex Pereira last April 8, 2023.
Adesanya quickly found himself in deep in trouble after suffering a knockdown in the opening round when Strickland surged forward throwing haymakers.
According to Bisping, Adesanya's corner was too complacent despite the knockdown and continued to become overconfident with their game plan.
"Even when he was dropped in the first round and was very close to being finished he had a sort of smug look on his face and there was no concern or worry or realization that he was in there with a real threat," said Bisping.
This is one of the worst beatdowns that Adesanya had in his entire professional Mixed Martial Arts (MMA) career since losing back-to-back fights against Pereira.
Adesanya was hounded for 25 straight minutes and had no answers to Strickland's power-punching backstopped by his great ring control.
"In the meantime Izzy can go away and have a well-deserved break. I am not taking away from Strickland, I thought he did a sensational job, but I do think there is something to the schedule that Izzy has kept that was possibly to his detriment in this fight," added Bisping.