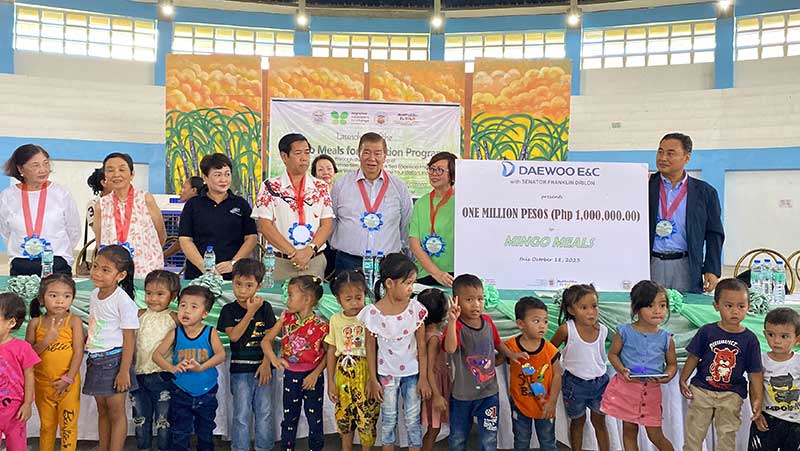 By Mariela Angella Oladive 
In a significant effort to combat malnutrition among children in the region, the Mingo Meals for Nutrition Program was officially launched at the Calinog Astrodome on October 18, benefiting an initial of 65 malnourished children aged six to 59 months from Barangay Agcalaga, Calinog, Iloilo.
The launching was graced by the presence of distinguished individuals, including former Senator Franklin Drilon, Calinog Mayor Francisco Calvo, Provincial Health Office head Dr. Maria Socorro Colmenares-Quiñon, National Irrigation Administration (NIA) Region 6 acting manager Engr. Jonel B. Borres, as well as representatives from NVC and Daewoo Philippines.
This initiative, supported by various local and national stakeholders, is set to address the critical issue of malnutrition in the country, as Former Senator Franklin Drilon stressed.
In his message, Drilon emphasized the importance of the program, stating, "This project attempts to reverse the condition of our children who are undernourished due to lack of food."
While Mayor Calvo expressed his desire to expand the feeding initiative to include more children, acknowledging the pivotal role it plays in improving the well-being of the community's youth.
Dr. Wendel Tupas-Marcelo explained that beneficiaries are selected based on specific criteria, including high malnutrition status, such as underweight, wasting, and stunting, with full support from the local government.
NVC president Millie Kilayko shared that while the project has not fully reached its one-year implementation, they have already seen an 11 percent improvement.
Mingo meal is a ready-to-eat sachet containing a nutritious blend of rice, mongo, and malunggay given to be provided to the beneficiaries for a year.
The nutritional program will also include quarterly assemblies for check-ups and other support like giving each beneficiary household a PHP250 worth of food supplies and Barangay Nutrition Scholars (BNS) a PHP100 incentive for each child they rehabilitate, further motivating their dedication to the cause.
A beneficiary's parent, Arlene Bernizo-Petalgo, expressed her gratitude for the program, acknowledging its profound impact on impoverished families. She recognized the positive changes it brought to their lives and the well-being of her children.
Arlene said, "Maayo man ang programa, maayo kay may nahatag sa amon nga maayo man ang amon nga mga bata."
Marivic Bacea, another parent, shared her appreciation saying, "Nagapasalamat gid ako nga beneficiary ang bata ko kay syempre makabulig gid man sa amon, kapin pa kami nga pigado, hanggod ini nga bulig sa pagkaon."
The Mingo Meal Nutritional Program has already started making a difference in various communities, including Badiangan, Carles, Lemery, and is set to expand to Leon, Maasin, and Janiuay.
As the program expands, it underscores the importance of collaborative efforts in addressing the issue of malnutrition and creating a brighter future for the children.