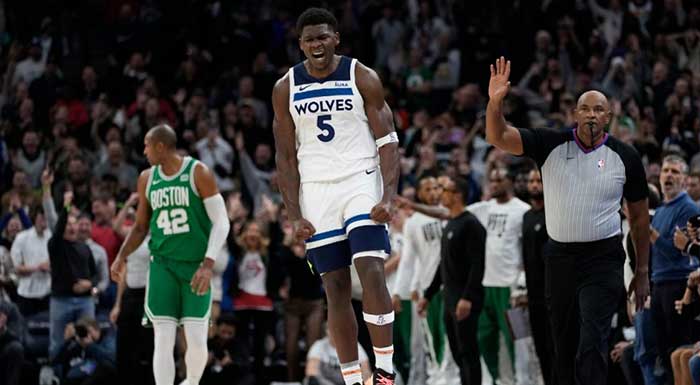 By Leobert Julian A. de la Peña
The Minnesota Timberwolves pulled off its biggest win of the young NBA season after tainting the undefeated record of the Boston Celtics, 114-109, last November 7, 2023.
Minnesota needed five extra minutes and showed they still had enough gas left in the tank during the overtime period, outscoring the Celtics 13-8 to extend their winning streak to three games.
Anthony Edwards was terrific and tallied his best scoring game of the season so far after dropping 38 big points despite playing the inter-conference clash in foul trouble.
With eight minutes remaining in the final frame of the nip-and-tuck affair, the Minnesota coaching staff had to take Edwards out when he notched his fifth foul.
The Timberwolves did enough to hang around but as soon as Edwards left the court, the Celtics quickly regained the lead in the last four minutes of action.
Edwards was then subbed in and did magic for the Timberwolves, scoring a chunk of their points in the next nine minutes of action including the overtime period.
The high-flying shooting guard fired nine markers in the last four minutes of the extra period including seven straight points that ballooned their lead to seven, 112-105, with only 1:34 remaining.
Aside from his scoring prowess, Edwards also put up an all-around efficient performance when he assisted the ball seven times and grabbed nine rebounds.
It was a close contest as both squads figured in a series of counter-offensive runs but Minnesota became more consistent and banked on Edwards in the final stretch of the game.
Jaden McDaniels also stepped up for the Timberwolves as the two-way player contributed 20 points, two rebounds, an assist, and a steal.
Despite an off-night from star center Karl Anthony-Towns who only scored seven, Rudy Gobert made it up after chipping in a double-double outing of 14 points and 12 rebounds.
On the other hand, the Celtics got 32 points from Jayson Tatum, 26 points from Jaylen Brown, and 20 markers from Kristaps Porzingis.