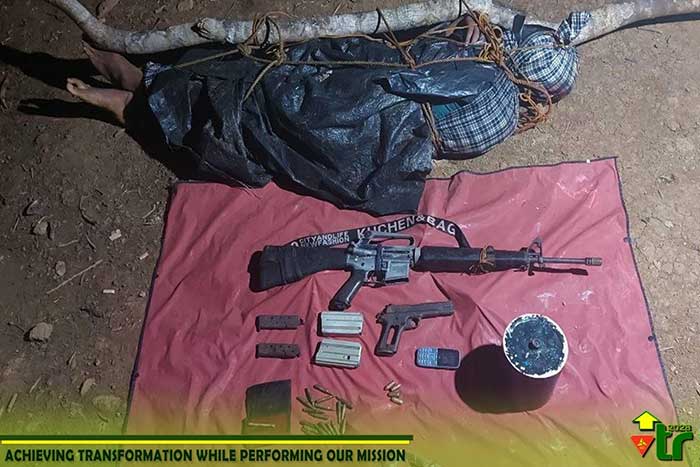 By Glazyl Y. Masculino
BACOLOD City – A minor, who was an alleged member of the New People's Army (NPA), was killed, while a soldier was injured in a series of armed clashes in Barangay Gatuslao, Candoni, Negros Occidental last Tuesday.
Brigadier General Leonardo Peña, commander of Army's 302nd Infantry Brigade (IBde), said the fatality was a 16-year-old boy from Barangay Cabadiangan, Sipalay City, who reportedly served as a medic of Squad 1, Sentro De Gabridad (SDG) Platoon 2. He was also a member of Squad 2, Platoon 3 of the South West Front (SWF)-W (PSRL).
Peña said the first encounter happened around 5:30 p.m. when personnel of the 15th Infantry Battalion (IB) responded to reports of alleged extortion activities in the area.
The Army initially figured in a brief firefight with at least 15 armed rebels. It was then followed by another clash around 5:48 p.m.
The last clash occurred around 6:48 p.m. while the soldiers were scouring the withdrawal route of the enemies, Peña said.
After the said clashes, which Peña called as "sporadic," the minor, who was believed to be abandoned by his comrades, was found lifeless.
He was subjected to autopsy after his family claimed his remains yesterday.
Peña said that an M16 rifle and a .45-caliber gun were recovered from the minor.
Military troopers also seized some personal belongings and an anti-personnel mine.
Peña said that according to the minor's family, he was encouraged by his stepfather to join the armed struggle since the latter is a member of the said group.
Peña said the NPA rebels in the recent clash were part of the armed rebels who also engaged in an encounter with the 15th IB in Barangay Caliling, Cauayan town last month, which resulted in the death of one rebel.
Meanwhile, Peña said that a soldier suffered a minor injury when he was hit in his arm.
"Na daplisan siya sa braso pero okay naman siya, pina check lang namin sa hospital," he added.