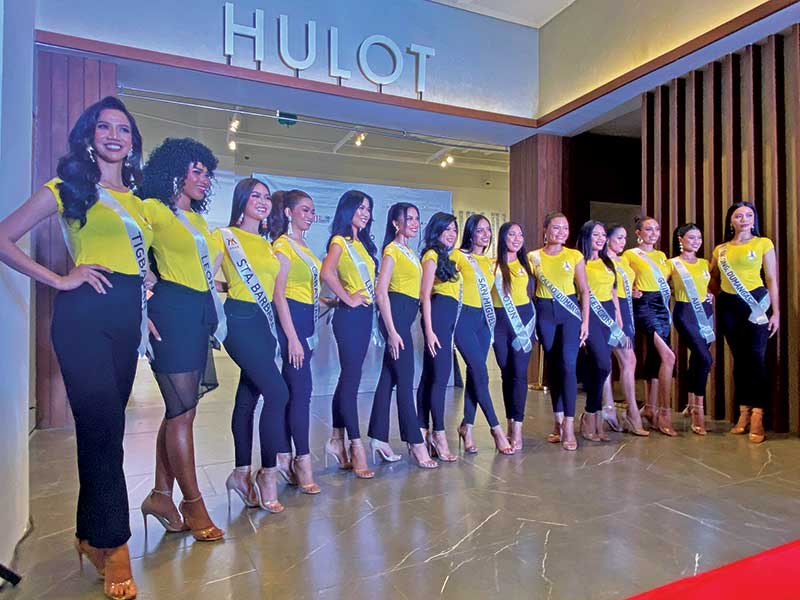 By Joseph Bernard A. Marzan
The Miss Iloilo pageant organizers unveiled the faces who will possibly represent Iloilo City to national pageants as it presented to the public contenders for the title on Friday, November 17.
The contestants introduced themselves and their individual advocacies, which included championing persons with disabilities, farmers and fisherfolk, and sustainable tourism, among others.
They also faced the press and other guests and showcased their ability to swiftly come up with answers to unexpected questions relating to their experiences, the pageant, and their advocacies.
Alexie Mae Brooks, a student-athlete from Leon, said she wanted to represent colored women from the Philippines on the international stage.
Brooks, who has represented the country as part of the national team in athletics, also addressed concerns about balancing sports training and pageant preparations.
"I want to be someone dark-skinned from Iloilo who speaks in Hiligaynon to represent Iloilo and to tell people that we Ilonggos are diverse and inclusive, and when it comes to my sports, there's no problem with it, it's a matter of timing, and sometimes, I have off-seasons, I can join pageants and modeling, it's just a matter of time management," Brooks said.
Shaima Al Yansuri, a half-Egyptian Broadcasting graduate from Guimbal town, spoke about being biracial and reacted to chatter about not being 'Ilonggo enough'.
"The people of Guimbal know that I was born and raised [there], and all throughout my life, I've dedicated myself to helping people and meeting people from different walks of life. I'm [currently] a Vice President for Internal Affairs and a co-founder of a civil society organization in my locality. I think this is already a testament that I am truly an Ilongga because everything that I do, my actions, my words, my stance, and my profound purpose are always to serve the Ilonggo people," Al Yansuri said.
Nicklyn Jutay, a returning candidate from Tigbauan town, won the Darling of the Press Award.
During the open forum, Jutay mentioned that it was her grandmother who pushed her to keep going despite not clinching any accolades during Miss Iloilo 2023.
"I don't see failure in my life, and I would always push for someone that matters to my heart. The main reason why I'm here is because someone believed, and I am going to do it a thousand times again. There's nothing wrong with trying," said Jutay.
The pageant's co-chairperson, Beverly Rosales, said that they are looking for girls who exemplify their motto of 'heartfelt beauty', someone who has a good command of English and possesses an average height of 5 feet and 5 inches tall.
"The girls need to not be pretentious. There are sometimes women who, when you see them, they [seem] really good, but deep inside, they are 'pasaway'. We've seen that in lots of our former candidates, so it's really hard. We need them to compete in national competitions, which is really tough," said Rosales.
"We had our own interpreter last year because of the motto that an Ilonggo speaks their own language. Now, it's more difficult. They can speak in Tagalog, but the problem there is that if they go international, then that would be different," she added.
Pageant chairperson Sarah Peña said that this batch of contestants boasts of promise, stating that some of them might end up in an international pageant since Rabiya Mateo won Miss Universe Philippines in 2020.
"Since the screening, we can easily see that this batch is really good because they are good communicators and they are really smart. They have all the qualities to be one or more of the winners of the national pageant[s], and mostly, many of them are tall," said Peña.
Pre-pageant activities include a Tourism and Advocacy Video Challenge, a separate Swimsuit Competition event, Cultural Costume, Talent portion, and Designers' Fashion Show. Their exact dates will be announced on their Facebook page in the near future.
They will also hold a 'Rigodon de Honor' charity night on December 6, which will focus on the culture and heritage of the city.
The main awards to be given in the pageant's coronation night are four runners-up and the grand Miss Iloilo title.
Their representations to the Binibining Pilipinas, The Miss Philippines, Miss Universe Philippines, and Miss Earth Philippines, will be named in a separate event, similar to the most recent edition.
Miss Iloilo, launched in the 2020 Dinagyang Festival as a revamp of the Miss Iloilo Dinagyang pageant, sent Mateo to the first-ever standalone Miss Universe Philippines competition, where she emerged as the winner, and the first Ilonggo representative to the Miss Universe pageant since Louise Aurelio Vail.
Miss Iloilo and the Iloilo Festivals Foundation, Inc. recently signed a partnership agreement with the Miss Universe Philippines Organization in October that formalized their accreditation to send the city's representative to the national pageant.