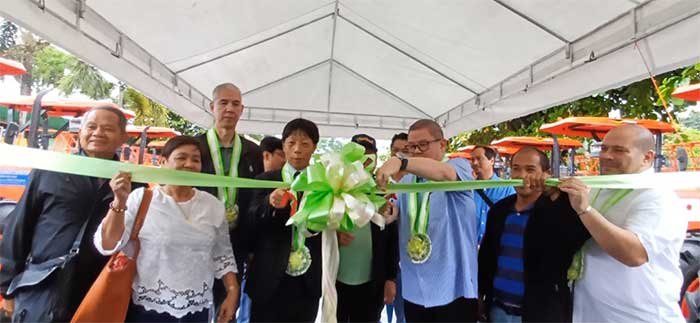 By Dolly Yasa
BACOLOD City – Department of Agriculture Secretary Francisco Tiu Laurel said modernizing Philippine agriculture is key to meeting President Ferdinand Marcos and the public's expectations of more affordable and accessible food items.
Laurel was here Saturday as the Department of Agriculture (DA) and the Sugar Regulatory Administration (SRA) received 800 million yen (PhP300 million) worth of farm equipment for Filipino small sugarcane farmers at the SRA office in this city.
The Japanese Ambassador to the Philippines Kazuhiko Koshikawa turned over the grant to Laurel, SRA Administrator Pablo Luis Azcona, and representatives of beneficiaries from Luzon, Visayas, and Mindanao.
He pointed out that mechanization reduces hard labor, relieves labor shortages, and improves the productivity and timeliness of agricultural operations.
"I'm especially pleased to be here today to welcome our good friends from the Government of Japan and thank them for the 80 units of tractors, 48 units of sugarcane planters, 48 units of flail mowers, and 5 units of power harrows—all extended under the Japan Non-Project Aid Program,"  Laurel further said.
He pointed out that the DA has played a significant role in the evaluation, approval, and monitoring of the progress of the project entitled Farm Mechanization Program for Small Sugarcane Landholders.
Laurel also commended the SRA for steering the sugarcane industry toward increasing its production through small sugarcane farmers.
He stressed that he would consult with stakeholders, including the huge DA bureaucracy, in order to accomplish President Ferdinand Marcos, Jr.'s marching orders to bring down the prices of food items like rice, sugar, meat, chicken, fish, and vegetables by increasing food production.
Laurel noted that his experience moving up the corporate ladder allowed him to witness for himself the problems of the agriculture sector and the need for national and local authorities to work together to address the problems of Filipino farmers.
"I have been on a journey of administrative responsibility. I went to see first-hand conditions throughout the agriculture sector, to see how effectively national and local authorities are taking care of the Filipino farmers' pressing problems and how they work together to support national food security," he said.
Laurel thanked the Japanese embassy official involved in actualizing the grant.
"I'd like to express my gratitude to Mr. Jumpei Tachikawa, the first secretary and agriculture attaché at the Japanese Embassy, who has been instrumental in the success of this program," he said.
"Our partnership with the Japanese government helps us address this concern through modernization and mechanization. Our two nations are bound by common interests. Our trading partnership, which brings greater prosperity and opportunity to citizens of both our countries, has grown dramatically in recent years," he said.
Turned over were 80 tractors, 48 sugarcane planters, 5 power harrows, and 48 lateral flail mowers.
Meanwhile, Exequiel Marañon, a representative of the beneficiaries said that the tractors intended for small planters with 0-5 hectares of sugarcane farm will reduce the cost of land preparation and will help improve production.
Also present at the turnover ceremony were Bacolod City Mayor Alfredo "Albee" Benitez and Negros Occidental Governor Eugenio Jose Lacson.