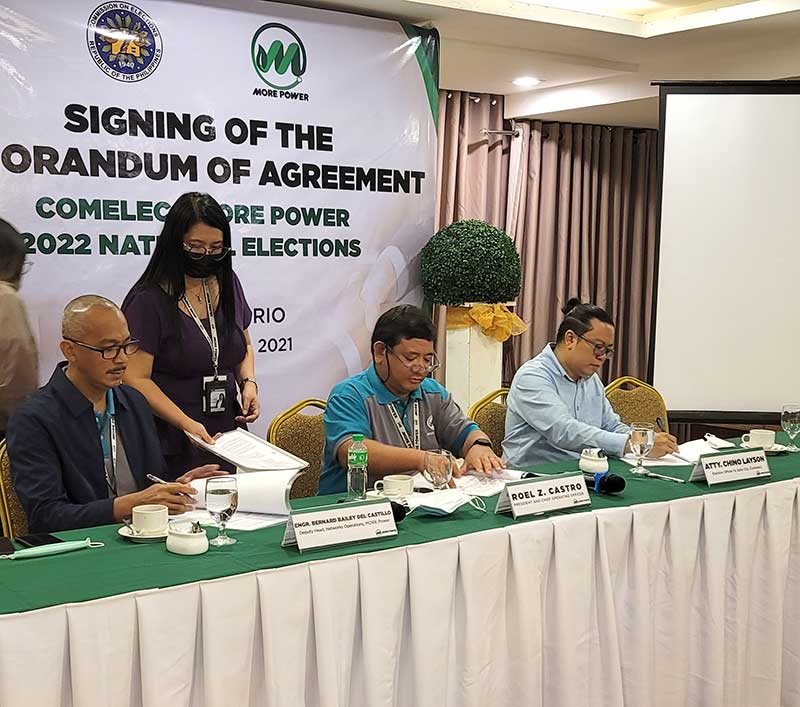 By Joseph B.A. Marzan
In what is deemed as a first for the country, the Commission on Elections (COMELEC) Iloilo City office and the city's power provider, MORE Electric and Power Corp (MORE Power), signed a memorandum of agreement (MOA) to ensure uninterrupted electricity supply during the May 9, 2022 National and Local Elections.
The MOA covers evaluation of the capacities of stations serving voting centers, checking voltage levels, and upgrading several facilities serving voting centers.
City election officer Atty. Reinier Layson confirmed that this was the first partnership of a local COMELEC office with the local power provider.
Layson said the agreement was hatched between July and August 2021 while voter registrations were stalled due to lockdowns.
"The COMELEC is happy for this partnership, but for me, I'd like to think that this partnership has gone beyond, this is now a friendship between MORE Power and the COMELEC. I am confident enough to day that this partnership with MORE Power in the country. We've open floodgates of opportunities, and we are excited for things to come in the future," Layson said.
MORE Power President and COO Roel Castro said that the partnership with the COMELEC "was more than just the agreement," adding that it was more of their commitment to ensure that the elections run smoothly.
Castro said that he also offered to COMELEC the opportunity to attach its educational and informational materials to power bills which are distributed to 85,000 customers.
"Since we feel that we in MORE Power have a very vital role to play in the coming election, 100 percent support will be given to COMELEC, more importantly to the voters, and as well to the process. We cannot afford to have power interruptions until the elections are finished. We are very happy to be partners with the COMELEC because we feel that this is a very important point in our history and our recovery," Castro said.
The company's deputy network operations head Engr. Bailey Del Castillo says that the signing was a manifestation of its commitment to ensure "reliable and continuous supply of electricity" during the 2022 polls.
Del Castillo said that as part of the agreement, they will start upgrading their facilities based on their findings starting in early January.
He added that they already started the monitoring the loading of feeders to start the practice of transferring affected lines to "healthy" feeder stations for back-up just in case of outage.
"The MOA signing serves as a kick-off for various activities that we have discussed and stipulated as part of our commitment. As early as next week, we will already start with our inspection [of voting centers]," Del Castillo stated.
POWER BACK UP
Layson also shared primary power responses of the COMELEC in case of interruptions in election days.
The election officer said that while power outages were never a significant problem in Iloilo City in the most recent elections, he emphasized that the agreement with MORE Power was "to make the conduct of elections better" for the people.
"In the conduct of the national and local elections where we used the vote-counting machines, there was no significant time of power outage on the day of the elections. What we are after here with MORE Power in the coming elections is that we will make it better for the Ilonggos. We will make it brighter on the eve of the coming elections. We will endeavor really with MORE Power to totally avoid a power outage," Layson stated
For the most urgent power outages, he says that each Vote Counting Machine (VCM) to be used in the 2022 polls will have back-up batteries which will provide power for 12 to 14 hours.
"We expect that in all parts of the country, there will be shortages of power supplies on May 9 next year. It is required by the COMELEC that every vote counting machine would have a back-up battery. In areas without power supply we can still conduct elections," he said.
The 2022 polls are the first elections in Iloilo City where MORE Power will serve as power distributor, after it took over the services of erstwhile distributor Panay Electric Company (PECO).