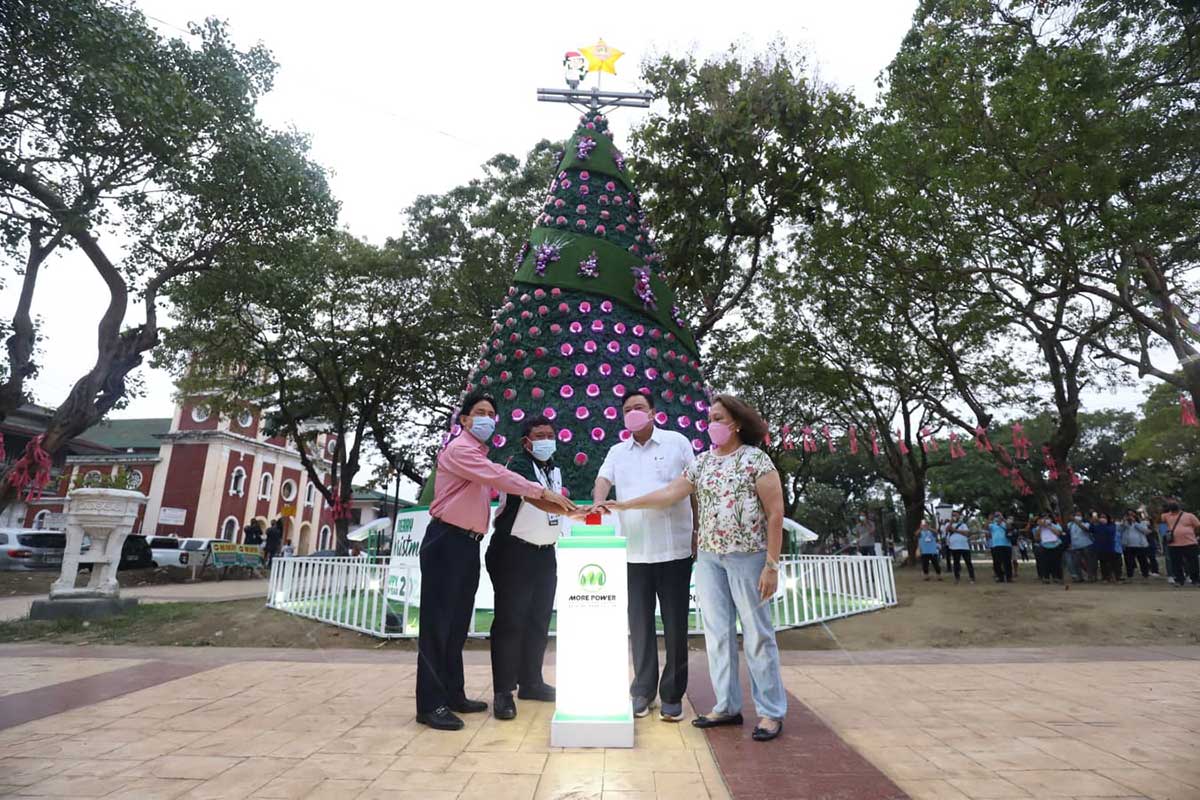 By Francis Allan L. Angelo
The number of service interruptions in Iloilo City under MORE Electric and Power Corp. plunged in the past 10 months of 2021 thanks to improvements in its distribution system.
Data provided by MORE Power to Daily Guardian indicated that supply interruptions like brownouts decreased by 73 percent from 53 incidents in January to 20 as of October.
The interruptions peaked at 76 in May while the lowest was 3 incidents in August.
The specific measurement or parameters of electric supply interruptions can be further appreciated using two reliability indices – System Average Interruption Frequency Index (SAIFI) and System Average Interruption Duration Index (SAIDI).
SAIFI is the average number of interruptions per customer during the period while SAIDI refers to the average interruption duration per customer during the period.
MORE Power data indicated that its SAIFI from decreased by 86 percent from an average of 2.4 interruptions in January to 0.52 in October.
SAIDI also plunged from a little over 400 seconds in January to 50 seconds in October, or a 95 percent decrease.
The city's power distributor attributed the lesser power supply interruptions to the installation of automatic circuit reclosers (ACRs), load break switches (LBS), and other innovations like animal disturbance protections.
An ACR is an automatic, high-voltage electric switch. Like a circuit breaker on household electric lines, it shuts off electric power when trouble occurs, such as a short circuit.
But while a household circuit breaker remains shut off until it is manually reset, a recloser automatically tests the electrical line to determine whether the trouble has been removed. If the problem was only temporary, the recloser automatically resets itself and restores the electric power.
If the trouble is still present, the recloser is programmed to consider the interruption permanent and it remains off. The power company crew must then repair the problem on the line and reset the recloser to restore power.
The LBS is a device used to open an electrical circuit by isolating the source from the consumer. Whether they are manual, motorized or with a trip function, these devices ensure the on-load making, breaking and safety disconnection of low-voltage electrical circuits.
Animal protection devices are installed to protect the distribution lines from animals that crawl or touch the wires which could lead to short circuits.
So far, MORE Power has installed 31 ACRs and 6 LBS in the new Molo feeder area and in Yulo, Arevalo district.
In LaPaz, five ACRs and an LBS were also installed in strategic feeders. Five ACRs and an LBS were installed in City Proper and three ACRs and an LBS in Jaro Substation.
Mandurriao, the city's new growth area, has eight ACRs and two LBS, while Molo has six ACRs and three LBS installed.
The Megaworld Mobile substation in Mandurriao has two ACRS.
The installation of 206 units of animal guards and 177 sets of silicone rubber insulators resulted in minimal power interruptions caused by animal intrusions to three incidents as of Oct 21.
MORE Power president and COO Roel Z. Castro stressed that they managed to lower unscheduled supply interruptions because of the rehabilitation works and quick response to outages.
Castro said the Energy Regulatory Commission (ERC) keeps tabs of their performance by looking at the frequency and duration of unscheduled interruptions.
"In the past, the unscheduled outages would last for an hour or even more. Nowadays, it's very, very low and our response time is also very fast compared to before," he added.
Castro said unscheduled outages are due to emergency situations such as lack of supply, force majeure or acts of nature, and disturbances in the transmission or distribution lines.
The transmission lines from the power plants to the distribution utilities (DUs) are managed by the National Grid Corporation of the Philippines (NGCP), which is another private company, while MORE Power handles the distribution system in Iloilo City.
Engr. Bailey del Castillo, deputy network operation head of MORE Power, said unscheduled brownouts have been shortened in duration and reduced in frequency.
"When we started in the first quarter of this year, the duration of unscheduled brownouts averaged 120 minutes. As of November 2021, we were able to bring it down to 40 minutes. In terms of frequency, it was 3.6 times to 4 times of interruptions in the first quarter of the year. But as of November 2021, it was down to an average of 0.9, or less than 1. That means, our customers experience only 1 interruption," Del Castillo said.
Castro said there are three reasons for the rosy numbers on unscheduled supply interruptions or outages.
"Number one, this is already the result of the over 30 automatic circuit reclosers that we installed. Number two, if our memory still serves us right, in the past, we always get bashed by our consumers because of the tuko (geckos or lizards) that disturb and cause short circuits in our lines. I am proud to say that in over five months, wala nang reason ang tuko because we have installed animal guards in our lines as well as silicone rubber insulation in vital poles. They are not causing short circuits which lead to outages," he said.
Another reason for the low duration and frequency of outages is the optimization of the deployment of response teams, including the quick response teams on motorcycles, to areas that are prone to interruptions.
"Our response time is very fast that is why we were able to bring down the frequency or number and duration of the outages," Castro said.
In Mandurriao area, MORE Power will replace starting next year the wires with bigger and insulated ones as the line feeders in the district are prone to disruptions caused by vegetation or trees.
"Cutting trees is not the solution so it's better to replace the wires with bigger and insulated types to avoid the tree branches from causing short circuits or faults. That has been our observation in the area. It would be costly, but we can bring down interruptions while at the same time preserving and protecting our trees," Castro said.
Castro said they will lay down eight kilometers of insulated wires in different areas starting January 2022 to avoid scheduled outages this holiday season.
"The materials are already here but we will start next year to avoid brownouts during Christmas and New Year's revelries," he added.