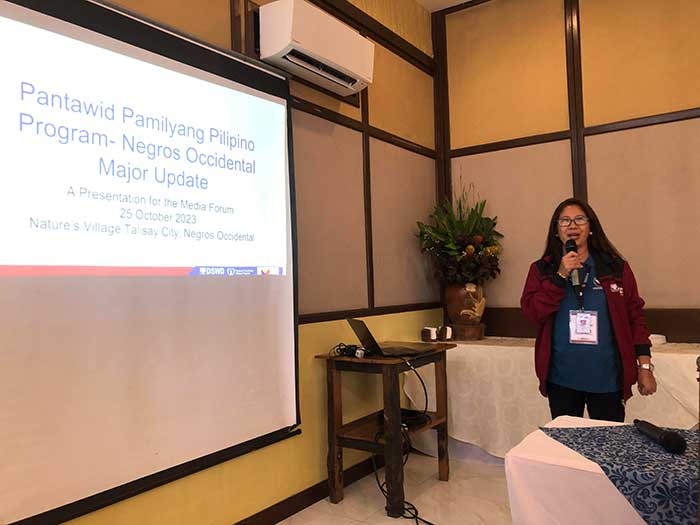 By Glazyl Y. Masculino
BACOLOD City – A total of 15,311 beneficiaries in Negros Occidental, including Bacolod City, have rejoined the Pantawid Pamilyang Pilipino Program, also known as 4Ps.
This was announced yesterday by Belen Gebusion, head of 4Ps of the Department of Social Welfare and Development (DSWD)-6, in a media forum held at the Nature's Village Resort in Talisay City.
Of the figure, Gebusion said that 11,480 were reactivated in the province, while 3,831 others were from this city.
Gebusion said that as of this month, the DSWD-6 has targeted 85,340 households for re-assessment in Western Visayas. This included 60,116 for reversion and 25,224 for exit.
Of the 60,116 households recommended for reversion, 58,360 have been reactivated in the region, according to Gebusion.
The reactivated households were those who were tagged as non-poor before the pandemic.
"They were not removed but deactivated for a while since January. Nalipatan na may pandemic for two years na affected man sila. Thus, it calls for re-validation. Looking at the actual situation," she added.
Gebusion said that these beneficiaries did not receive their cash grants from January to September this year.
Thus, they will be paid retroactively, and starting this month, they will be included in the regular monitoring of the program, she added.
Gebusion said that they can receive a minimum amount of P1,650 per month or a total of P14,850 in nine months, including educational, health, and rice assistance for a family with only one child, while P3,450 per month or P31,050 in nine months for a family with three children.
She said that the cash grants depend on the number of children being monitored for their education.
Meanwhile, Gebusion said that the 25,224 households due for exit will be turned over to the local government units for after-care, as they will be tagged as non-poor.
She said that based on the re-assessment, these beneficiaries are now able to provide for the needs of the family, considering that they already have children who are employed.
This will give more chances to other poor households to be part of the program and avail of the cash grants, she added.
Based on the data of DSWD-6 on the re-assessment of 4Ps in the region, Iloilo topped the list of reactivated households with 17,331, followed by Negros Occidental, including Bacolod, Capiz with 13,723, Aklan with 6,034, Antique with 3,433, and Guimaras with 2,528.
As of October 8, the DSWD-6 recorded a total of 369,242 active households in the region.
Gebusion said that the target coverage of 4Ps in the region is only 345,919. However, they exceeded for about 23,000.
Of the figure, Negros Occidental, including Bacolod had the highest number with 154,360; Iloilo, 110,166; Capiz, 38,022; Antique, 29,281; Aklan, 28,492; and Guimaras, 8,921.
When asked about violations of 4Ps beneficiaries, Gebusion said that the delisting of beneficiaries with violations is ongoing.
She said that about 2,000 beneficiaries in the region have been reported for pawning of 4Ps cards, drinking of liquors, and being involved in illegal gambling.
"May intervention gid dapat para indi magsakripisyo ang mga bata," she added.
Further, she said that some of the major activities they need to do until December are the processing of payment for re-activated households as a result of the re-assessment, updating of members with PhilSys Identification (ID) card, campaign for registration with PhilSys, and campaign for application for lifeline rate act.
"It is the desire of the department to really contribute to the realization of a unified ID in the country, and we're banking on the registration of 4Ps with PhilSys," she said.