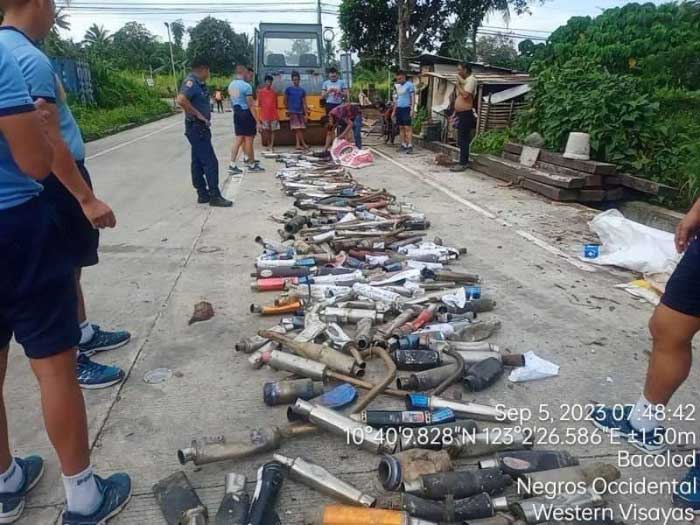 By Glazyl Y. Masculino
BACOLOD City – At least 250 motorcycle open pipe mufflers were destroyed by police in Barangay Granada yesterday, following complaints from some residents about its disturbance especially during nighttime.
Police Major Joery Puerto, head of Police Station 5, said that these mufflers were confiscated since January of this year in Barangays Granada and Alangilan.
Once a muffler has been confiscated, Puerto said that the motorcycle will not be released to the owner, unless the latter will change its accessory.
Puerto noted that he received many complaints about noise pollution when he was reassigned to the police station last June.
He said that he was informed that some riders were having a race in the upper part of these villages, leading them to intensify their campaign against it. "Disturbing gid siya," he added.
He cited City Ordinance 356, an ordinance regulating noise pollution in the City of Bacolod, and Article IV, Section 34 of Republic Act (RA) 4136 or the "Land Transportation and Traffic Code," as basis of the confiscation of open pipe mufflers.
Under RA 4136, every motor vehicle propelled by an internal combustion engine shall be equipped with a muffler, and whenever said motor vehicle passes through a street of any city, municipality, or thickly populated district or barrio, the muffler shall not be cut out or disconnected. No motor vehicle shall be operated in such a manner as to cause it to emit or make any unnecessary or disagreeable odor, smoke or noise.
Puerto said that Police Station 5 will continue to strengthen its campaign against motorcycle open pipe mufflers under his area of jurisdiction.