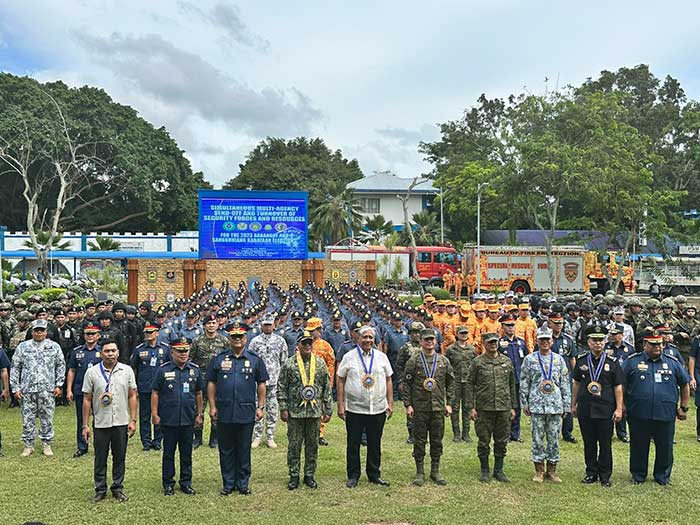 By Jennifer P. Rendon
More than 20,000 forces from different law-enforcement agencies will be deployed for election duties in the upcoming Barangay and Sangguniang Kabataan elections (BSKE) 2023.
Personnel from the Philippine National Police (PNP), Philippine Army, Philippine Coast Guard (PCG), and Bureau of Fire Protection (BFP) will take their poll assignment following the official send-off ceremony held at the Police Regional Office (PRO) 6 headquarters at Camp Delgado, Iloilo City on Oct. 23.
Atty. Dennis Ausan, Commission on Elections (Comelec)-6 regional director, led the send-off ceremony which also saw the presence of Lieutenant General Patrick Villacorte, Area Police Command (APC)-Visayas commander.
Brigadier General Sidney Villaflor, Western Visayas police chief, has signified to deploy 12,486 personnel for the BSKE 2023 while Major General Marion Sison, Philippine Army's 3rd Infantry Division commander, has committed 6,471 troopers for the purpose.
Meanwhile, the BFP will be sending 2,437 personnel while the PCG will deploy at least 30 personnel.
Ausan reminded the troops to just remain within the confines of their oath which is to serve as law-enforcement members and to observe the laws and regulations the Commission has laid down for them.
With one week to go before election day, Ausan said that all preparations have been already completed.
"So far, so good. We are on the right track with our preparations going to the last week," he said. "We are just waiting for the election day on Oct. 30."
Ausan said the final security plan has already been approved by the Regional Security Control Center (RJSCC).
As it is, the Commission has found a necessity to focus on a single area that must be given special attention.