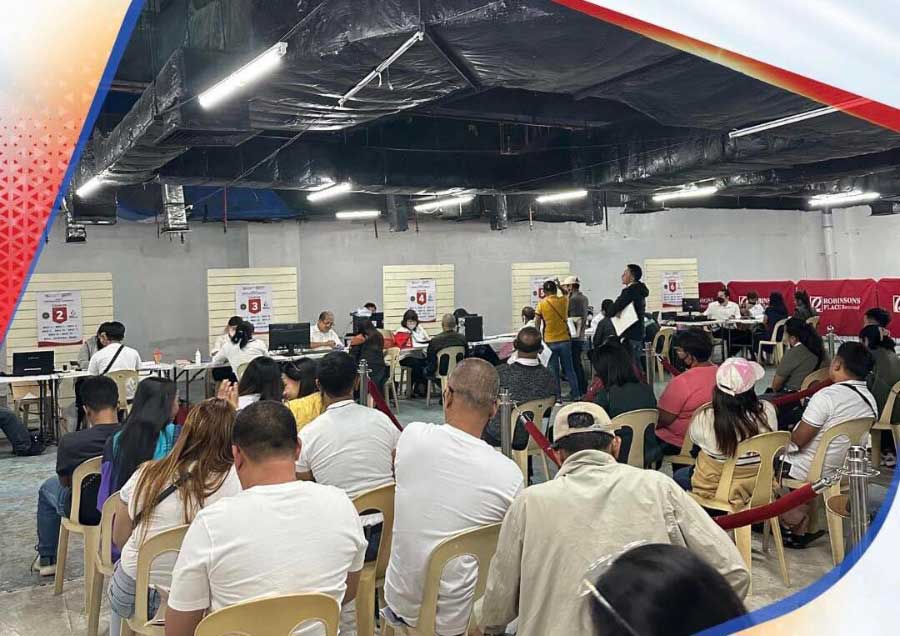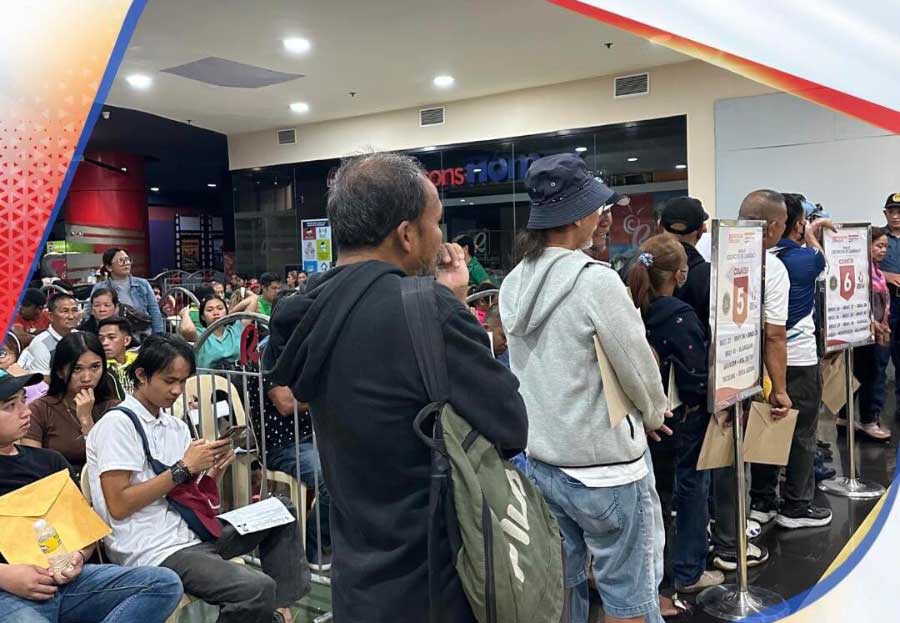 By Glazyl Y. Masculino
BACOLOD City – Aspirants for the October 2023 Barangay and Sangguniang Kabataan Elections (BSKE) here flocked to Robinson's Place Bacolod last Monday despite heavy rains and flooding in some parts of this city brought by Typhoon "Goring" enhanced by southwest monsoon.
Based on the data released by the Commission on Elections (Comelec) late Monday night, a total of 853 candidates filed their Certificates of Candidacy (COCs) on the first day of filing.
The figure included 67 who filed for barangay captains, 447 for barangay councilors, 51 for SK chairman, and 288 for SK kagawad.
The heavy rainfall did not stop the candidates, as long queues outside the shopping mall were seen before the filing of COCs started at 8 a.m.
Barangay Mandalagan registered the highest number of candidates with 24, including 20 barangay kagawad and four barangay captains.
For SK, Barangays Banago and Bata recorded the highest number of aspirants with 14 each.
Atty. Kathrina Trinio-Caña, city election officer, said they expected the volume of candidates on the first day of filing, adding that clustering is being implemented to ensure an organized process.
Caña said that three COCs were not accepted because two of them were overaged to run for SK, while the other has a second-degree relative who is an incumbent official.
For SK, Caña stressed that aspirants should be 18 and not over 24 years old by October 30, which is the election day.
Caña also said that candidates should ensure that the prescribed forms and their ID pictures were thoroughly checked and clearly printed before proceeding to the Comelec, to avoid hassle.
On the second day of the COC filing, Caña said that the crowd was manageable, as there were no more long lines inside the mall.
The filing of COCs will be until September 2 and the campaign period is from October 19 to 28.
Caña urged the candidates to file their COCs as early as possible and not wait for the last day of the COC filing so that they will have more time to check their forms for corrections.
She said that candidates will have to return on September 3 and 4 to check the encoding of their names in case the Comelec had lapses.
She reminded candidates not to wear t-shirts bearing their names and their positions when filing their COCs, as this is considered premature campaigning.
"Basi bala maka sample sila for disqualification," she said.
Caña also said that "recorida" or information campaign is prohibited since they are already considered candidates.
She also reminded them that posters during the campaign period should only be posted in the list of common poster areas here.