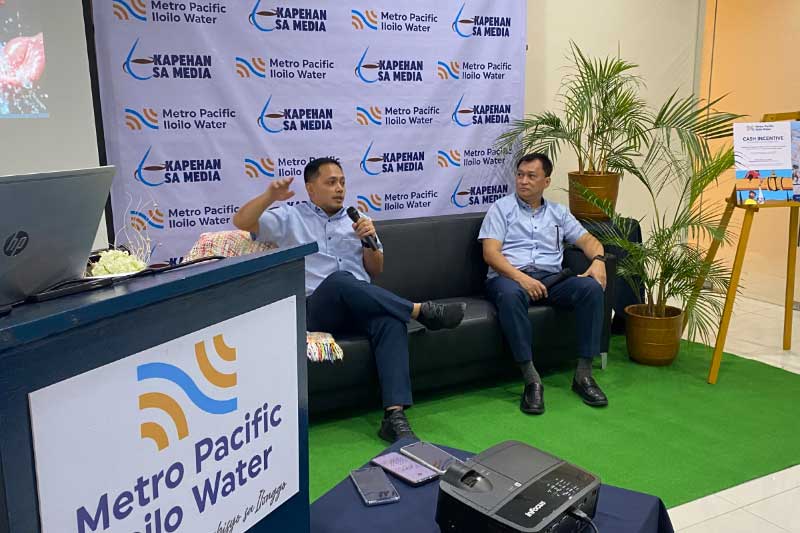 By Joseph Bernard A. Marzan
Metro Pacific Iloilo Water (MPIW) is set to launch an aggressive anti-pilferage program to plug non-revenue water (NRW), which accounts for half of the lost water supply since the firm began operating in 2019.
Engr. Jedd Roxas, MPIW Operations Division Head, said in a press conference on Tuesday, July 4, that they have reduced NRW to 29.24 million liters per day (MLD).
The current NRW ratio is at 48 percent, but the company aims to further reduce it to 35 percent by 2024.
There are two main types of NRW-related losses—physical or water lost to leaky pipes and those wasted from reservoirs; and commercial, which refer to misread and tampered meters, illegal connections, and other data-handling errors.
MPIW has consistently reduced its NRW in 2022 (35.9 MLD), 2021 (43.44 MLD), and 2020 (45.86 MLD).
Roxas explained that NRW rose in 2020 because they had to buy more bulk water to respond to the public's needs amid the coronavirus disease 2019 (COVID-19) pandemic.
MPIW Legal and Regulatory Affairs head Jon Cerlan Bangoy said that due to rate variations in their service accounts (Government and Residential, Commercial, and Bulk Water Supply), they could not immediately estimate their losses in peso value.
But Bangoy described said a "great deal of money (is) lost" to NRW.
Technical solutions for physical losses include improvements in the speed and quality of repairs, pressure management, active leakage control, and asset management.
Bangoy touted their active leakage control strategy, where they break down the entire distribution system into smaller areas, then find where water losses are highly concentrated.
As of 2021, MPIW opened 11 hydraulic systems in its entire service area via installed Insertion and Mechanical Type Flowmeters and Valve Isolations.
The firm had also traced leaks, with 108 (79 visible and 29 underground) detected so far this year. It previously detected 611 leaks in 2022, 432 in 2021, and 23 in 2020.
Turnaround time for fixing reported leaks is within 4 days for those without permit requirements and 77 days for those with requirements.
The permits are from local and national agencies, especially if the repairs require digging into public roads or areas.
Repairs that do not require permits can be completed within 5 days, while those with requirements were still far from the target of 35 days.
To address this, MPIW  developed standard procedures for all types of leak repairs.
"Majority of our water losses is composed of commercial and physical, but for the MPIW, our focus is more on the physical losses, so we focus on the technical solutions for the water losses," Roxas said.
"We still get limited supply. As much as possible, we're trying to deliver water when the customer would need it. For example in Iloilo City, from their consumption data, we try as much as possible to get water to them in the morning, and then we control the supply in the evening when much isn't being used to reduce leakages as well," he added.
Aside from the technical solutions to physical losses, MPIW is also seeking to respond to commercial losses.
To this end, the water utility's Commercial Division head John Cañonero, said that they are set to launch TAPIC (Tapnaon ang Illegal Connection) to go after illegal service connections of commercial and industrial establishments.
The program is based on Section 8(d) of Republic Act No. 8041 (National Water Crisis Act of 1995), which prohibits the tapping, making, or causing "to be made any connection with water lines without prior authority or consent from the water utility concerned".
Any concerned citizen may report illegal connections to the MPIW, and if verified, they would be rewarded with ₱3,000 cash.
Those who would be caught would be encouraged to register for a legal connection with the water utility. If they refuse, they will face criminal charges.
Cañonero said curbing illegal connections will also prevent water contamination, citing last year's surge in cases of acute gastroenteritis (AGE) and cholera that were partly blamed on contaminated deep wells.
"It's crucial to protect our water resources and infrastructure, and we must do everything possible to prevent illegal water connections and reduce Non- Revenue Water in Iloilo. Illegal connections to the water supply network could cause other users to lose pressure or even worse could create a danger to public health," Cañonero said.
Corporate Affairs and Communication head Marie Joy Josue admitted that addressing water pilferage is a challenge for MPIW, comparing it to similar efforts for power thieves in the city.
"Most of the illegal [water] connections are within the premises, so we cannot just enter that. There are certain issues [and] mechanics that we have to go through to be able to implement this project. Unlike [MORE Power], you cannot see the [water pipelines]," she said.
MPIW is the joint venture company of public Metro Iloilo Water District (MIWD) and private firm Metro Pacific Water (MPW) which commenced operations on July 1, 2019.
Its serves the majority of Iloilo City (except for some portions of Jaro district), portions of Leganes town, and the towns of Cabatuan, Maasin, Oton, Pavia, San Miguel, and Santa Barbara.