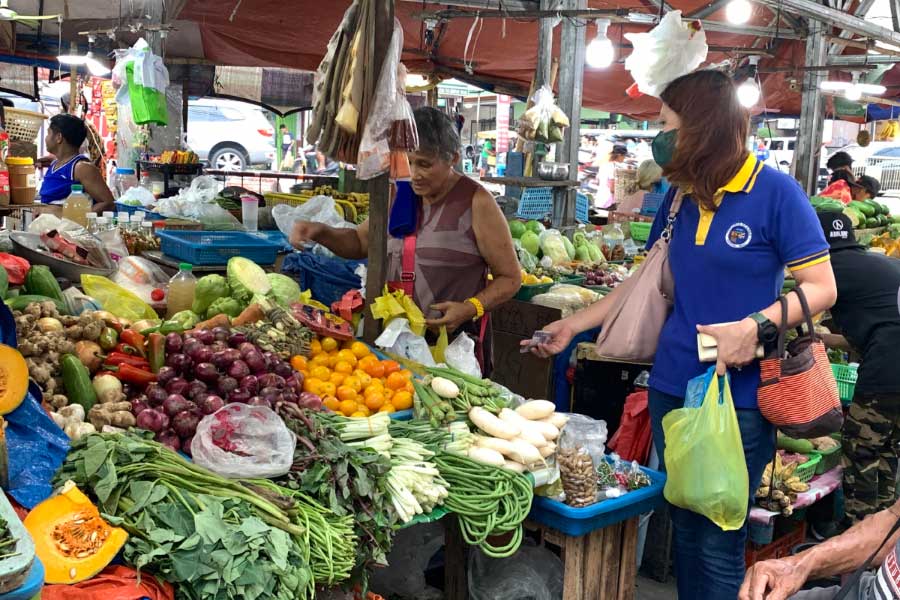 By Rjay Zuriaga Castor 
Inflation rate, or the pace of increase in the prices of goods and services, in Western Visayas continued to cool down for the fifth straight month, but some Ilonggos feel everything getting costlier.
Gloria Ogias, a carinderia owner in Jaro district of Iloilo City, is in disbelief at how prices have increased significantly, making it difficult for her to manage her business.
"Indi gid ko magpati nga nagnubo ang mga balaklon kay adlaw adlaw ako nagapaninda. Nagmahal na gid gani tapat… Daw nabudlayan gawa gani kami," Ogias told the Daily Guardian.
She shared that prices of several kitchen staples – onions, tomatoes, and garlic, in particular – have spiked. Even rice, according to her, has surged by 5 pesos since her last purchase in the last week of July.
"Mahal ang bombay, ang kamatis subong grabe gid ka mahal. Tapos mga vegetables, tanan nga mga vegetables halos nagmahal. Bugas nagtaas gid yah sang 5 pesos," she said.
To ease the burden on her regular customers, Ogias said she would sell her meals at more affordable and budget-friendly rates.
"Ginamag-anan lang namun kay daw bug-at bala. Daw kuntento naman kami nga gamay lang amon gina interest sa kada luto namun. Ang iban indi man kasarang sang mahal," she noted.
Marilyn Depedro, a proprietor of a small store in Lapaz Public Market, likewise said that prices of essential goods have significantly risen over the past months.
"Nagtaas gid ei. Dako-dako gid ang gin taas sang mga presyo, ilabi na gid ang presyo sang mga de-lata, gatas, carrots, bombay, repolyo. Nagsalaka gid yah, kadako sang saka niya," Depedro stressed.
She added that buyers in her store would often get shocked and complain about the prices.
"Gareklamo sila… Pero ang siling ko, gabakal man lang kami. Kung pila man lang nabakal namun, siyempre nagataas man kay maginansya man kami. Nagaplete pa kami sa tricycle. Nagabayad pa kami sa renta namun" she said.
For Keziah May Dignadice, a resident of Lapaz district, she says she cannot feel that inflation has decelerated since prices of main staple commodities like rice, meat, dressed chicken, chicken egg, fish, vegetables, and fruits are constantly changing.
"Actually daw wala man naga change gid ang price kay usually ang iban fixed price, iban nagalain lain man like presyo sang karne, isda… depende man sa season. Amo na nga indi mo gid mabatayagan nga nagnubo ang balaklon natun," she explained.
"Iban usually nagataas. For example, usually amo ni ang presyo sang pagbakal mo, next week lain naman siya," Dignadice added.
WV inflation rate edges lower again
The inflation rate in Western Visayas slowed for a fifth month in a row in July on the back of slower movements in food and non-alcoholic beverages, housing, water electricity, gas and other fuels, the Philippine Statistics Authority (PSA) reported on Tuesday.
From 6.8% in June, headline inflation decelerated further to 5.8% in July — the lowest since April 2022. In July of the previous year, inflation in the region was higher at 6.9%.
Food inflation likewise went down to 7.6%, from 8.6% in June. This is mainly contributed by the lower year-on-year growth in the index of fish and other seafood, as well as meat and other parts of slaughtered land animals.
PSA data showed that all six provinces in Western Visayas recorded a continued downtrend in inflation rates in July from June.
Negros Occidental had the highest inflation rate in July at 7.6%. Bacolod City inflation is noted at 6.6%, Iloilo City (5.7%), Iloilo province (5.1%), Antique (4.6%), Capiz (4.6%), Aklan (3.5%), and the island province of Guimaras (2.3%).