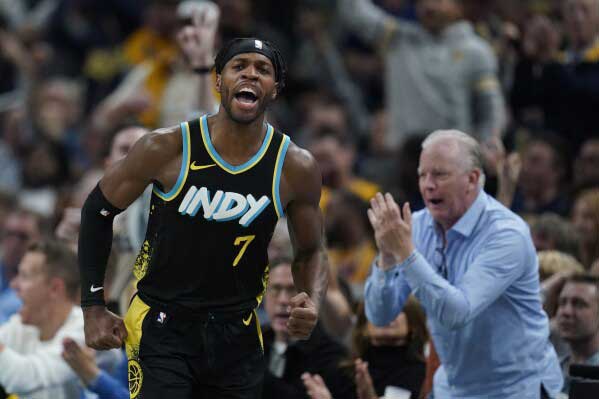 By Leobert Julian A. de la Peña
The Indiana Pacers spoiled Giannis Antetokounmpo's 54-point outing and frustrated the Milwaukee Bucks, 126-124, in the ongoing NBA season last November 10, 2023.
Indiana banked on their balanced offensive attack that halted Milwaukee's scoring spree in the last five minutes of the intense ball game.
The Pacers looked to blow the game wide open after building an early 18-point lead in the first half but Antetokounmpo carried the Bucks offensively to help turn the tables around in the last two quarters.
From an 18-point deficit, the Milwaukee superstar put the team on his back and bullied the Indiana interior to help the Bucks keep within striking distance at the end of the second quarter.
Antetokounmpo then wreaked havoc in the third, showing off his deep offensive bag while controlling the tempo of the game with his defensive rebounding.
Malik Beasley then heated up at the start of the final frame that gave the Bucks a nine-point lead but after the insertion of Tyrese Haliburton, Buddy Hield, and Myles Turner back, the Pacers bounced back and out-maneuvered Milwaukee in the final crucial stretch of the game.
Bennedict Mathurin also played crucial minutes for Indiana after sparking their offensive run in the last five minutes of the final period.
When Indiana got hot again and put up quick points during the fast break, the Bucks unfortunately melted and suffered game-costing turnovers in the last 1:30 of the game.
Antetokounmpo lost the ball twice during that sequence which allowed the Pacers to run again and score back-to-back deuces.
Haliburton continued to shine for Indiana after finishing with another double-double performance of 29 points, 10 assists, and six rebounds while Mathurin added 26 points.
Four other players from Indiana also reached the double-digit mark: Turner, Bruce Brown, Hield, and Andrew Nembhard.
On the other hand, the Bucks missed the services of Damian Lillard who is still nursing a minor calf injury.