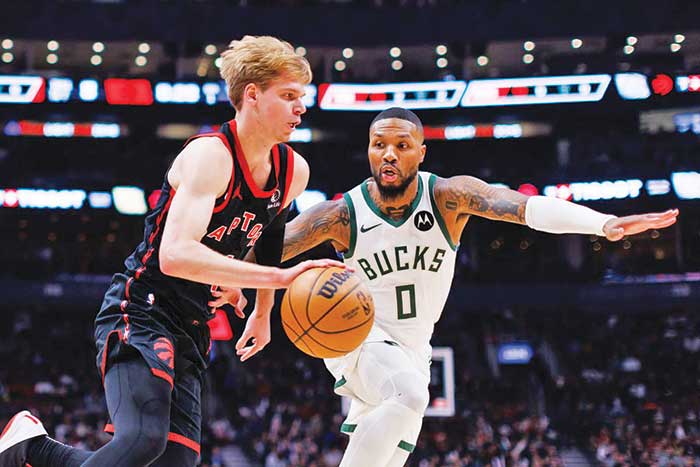 By Leobert Julian A. de la Peña
The Milwaukee Bucks got the job done against the Toronto Raptors, 128-112, even without the presence of their superstar Giannis Antetokounmpo in the ongoing NBA season last November 16, 2023.
Antetokounmpo was out on the road after nursing a right calf strain but his absence was barely felt by the Bucks after pulling off their most dominant win of the season so far.
Damian Lillard delivered when Milwaukee needed him the most and dropped 37 points built from a 9/18 shooting from the field.
Lillard bounced back after a dismal shooting against the Chicago Bulls and sank four three-pointers while only missing one shot from the charity stripe out of 16 attempts.
The scoring machine guard was on fire from the get-go and embarrassed every defender Toronto threw at him in the first half.
From his signature pull-up three-pointers to the pick-and-roll, Lillard was in full control of the game and picked the Toronto defense apart with his aggressiveness in going to the hole.
After the Raptors adjusted their defense in the second half by doubling up their help on the weak side, Lillard still found a way to be efficient and went to the free-throw line for points.
Aside from his scoring spree, Lillard also dished out 13 assists, his first time as a member of Milwaukee to reach double digits in the dime department.
Malik Beasley also balled out for the Bucks and went on a tear after chipping in a season-high 30 points, four rebounds, and a block.
Beasley was automatic from downtown and made eight out of his 11 attempts from the rainbow country.
Brook Lopez continued to anchor Milwaukee's defense after recording seven big blocks alongside 10 points, eight rebounds, and four assists.
The Bucks will aim to earn their second three-game winning streak of the season as they square off against the Charlotte Hornets on November 18, 2023.