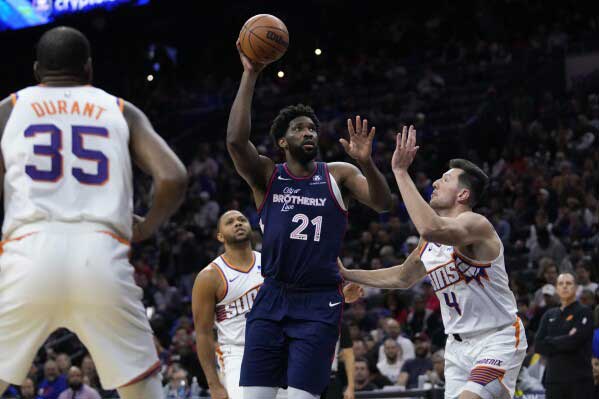 By Leobert Julian A. de la Peña
The Philadelphia 76ers notched its fourth straight victory after man-handling the banged-up Phoenix Suns squad, 112-100, in the ongoing NBA season last November 5, 2023.
After trailing early in the first quarter when Phoenix got off to a quick start, the 76ers finally regained their offensive touch and quickly turned the tides to take control of the game.
The Suns only tasted the lead during the first five minutes of the ball game and could only watch the dominant Philadelphia team sink their shots from all cylinders.
Philadelphia ballooned their largest lead of the game to 18 points in the second half and never looked back despite a late surge from the Suns in the last six minutes of the final canto.
Joel Embiid led the way for the Eastern Conference contenders with a double-double outing of 26 points and 11 rebounds.
The reigning Most Valuable Player (MVP) of the league asserted his mastery in the paint and was just too much against Jusuf Nurkic and Drew Eubanks of the Suns.
Embiid spearheaded Philadelphia's 60-point effort in the shaded lane, scoring 18 more points down the block compared to Phoenix's 42 markers.
Kelly Oubre Jr. backstopped Embiid with 25 points, three rebounds, and a block while Tyrese Maxey contributed 22 points and 10 assists.
Meanwhile, the Suns got 31 points from Kevin Durant alongside eight rebounds, three assists, and two blocks but needed more help on the road.
Phoenix was still without the services of Devin Booker and Bradley Beal who are still nursing their respective injuries.