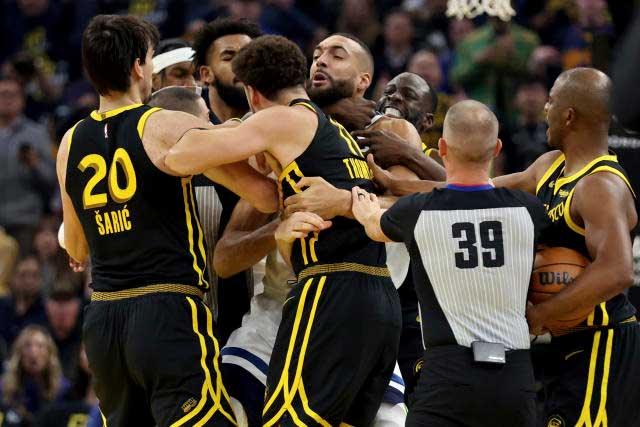 By Leobert Julian A. de la Peña
Golden State Warriors star forward Draymond Green has been suspended for five games without pay by the NBA after an on-court altercation against the Minnesota Timberwolves last November 15, 2023.
The final verdict was announced by NBA Executive Vice President, Head of Basketball Operations Joe Dumars following their thorough assessment of what really transpired during the Golden State-Minnesota game.
With only two minutes gone in the very first quarter of the Western Conference clash, Warriors' shooting guard Klay Thompson and Minnesota's Jaden McDaniels got into it after pulling each other's jerseys in the middle of the court.
After the referees whistled to stop the physical altercation, Rudy Gobert came in and grabbed Thompson by bear-hugging him.
Green then noticed what Gobert did to Thompson which forced him to headlock Minnesota's starting center while dragging him to the other side of the court.
Both Thompson and McDaniels were whistled for technical fouls and ejection while Green was slapped with a Flagrant 2 foul and also exited the game.
Green will start his five-game absence today as the Warriors will take on the Oklahoma City Thunder.
The former NBA champion will also miss Golden State's games against the Houston Rockets, Phoenix Suns, and the San Antonio Spurs.
Meanwhile, Thompson, McDaniels, and Gobert will each be fined $25,000 but will not serve any lengthy suspension.