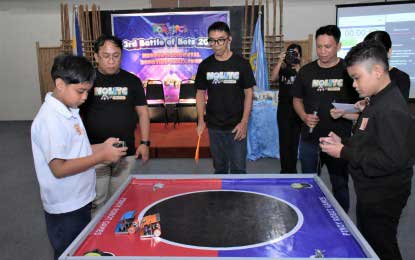 BACOLOD City – Elementary and high school students in Negros Occidental are showing a big potential in the creation and operations of robots under the robotics program of the Negros Occidental Language and Information Technology Center (NOLITC).
Some 12 winners excelled in this year's "Battle of Bots: Provincial Level Robotics Competition," which featured machines in the line tracing and the sumo bots categories.
Ma. Cristina Orbecido, vocational school administrator of NOLITC, said on Friday the participants demonstrated innovative thinking, creativity and coding prowess to solve the game challenges.
"We will continue to engage students in robotics and intelligent machines program to produce young Negrense inventors that can create solutions to pressing community problems," Orbecido told the Philippine News Agency.
Now on its third year and the first since the start of the coronavirus disease 2019 pandemic, the 2023 "Battle of Bots," organized by the NOLITC in partnership with the Pinoy Robot Games, gathered 80 competitors during the two-day challenge held at the Negros Residences here on Sept. 7 and 8.
They advanced to the provincial level after ruling the district elimination rounds held in the cities of Bago and San Carlos last month.
Melvin Matulac, founder of Pinoy Robot Games, is optimistic on the future of robotics in Negros Occidental.
"I'm very much pleased with what I see in the province. I don't miss the opportunity of speaking about Negros as a bright spot. I can attest that these students are prepared, they are ready to advance, and they are ready to compete," he said.
Matulac said he is hopeful that "in the very near future," other students from Negros Occidental would win national awards and eventually compete internationally.
Governor Eugenio Jose Lacson said that three years since the province started the program, there has been a growing interest among teachers and students in the field of robotics.
"We expect that in the coming years, our students will be able to build their own robots that will not only win in national competitions, but more importantly, be able to address pressing issues or challenges in our community," he added.
Julian Dash Acojedo, a learner from Ramon Magsaysay Elementary School in San Carlos City and the champion in the line tracing category, said winning is a "very nice experience" as he vowed to help his school and city build a robot someday.
"I was inspired by my coach to join the contest. I'm thankful for my school and my parents for the support," he added.
Acojedo's fellow winners included Ryce Cedric Oquiana of Bago City Elementary School (BCES) – first runner-up; and Nigel Salazar (B. Araneta ES, Bago City) – second runner-up.
In the sumobot elementary competition, winners included Joehan Bugna (BCES) – champion; Liam Drei Dedia (BCES) – first runner-up; and Lourd Eugene Subrado (Ramon Magsaysay ES, San Carlos City) – second runner-up.
Winners in the high school sumobot category were Sanjo Alleja (Rafael B. Lacson National High School (NHS), Talisay City) – champion; Elrey Tejada Jr. (Don Carlos Ledesma NHS, San Carlos City) – first runner-up; and Jillian Billones (Sagay NHS, Sagay City) – second runner-up while in the line tracing, Hannah Francine Vingco – champion; Mhylls Anthony Reboton – first runner-up; and Kristine Roxanne Celiz – second runner-up, all of Ramon Torres NHS in Bago City. (PNA)