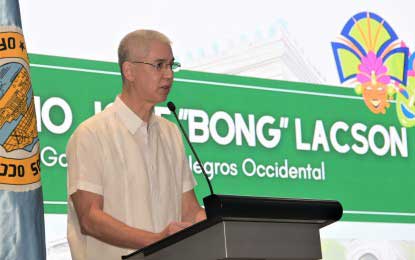 BACOLOD City – The Negros Occidental provincial government has pledged to continue supporting Negrense migrant workers and their families through various programs and projects as the province joins the observance of the Month of Overseas Filipinos this November.
"Your stories inspire us all. Rest assured that your provincial government is committed to providing assistance and support to you," Governor Eugenio Jose Lacson said in his message during the opening of the Migrant Fair at the SMX Convention Center here on Wednesday.
He acknowledged the efforts of government agencies and non-government organizations that provide relevant programs and services to overseas Filipino workers (OFWs), adding that the province will work with them in addressing the multi-faceted concerns of Negrense migrant workers.
As part of its support, the province has been providing financial assistance to distressed OFWs and to the families of those who died abroad during the health pandemic.
Lacson said the migrant workers sector is in the province's "cash for work" projects, and there are psychological counseling workshops initiated for them and their respective families.
The provincial government also offers college scholarships for children of former migrant workers and a degree completion program for OFWs.
Since 2020, it has partnered with the International Labor Organization (ILO) and the Center for Migrant Advocacy for the project called "Establishing and Institutionalizing a Gender-Responsive Migrant Resource Center Help Desks and Services for Women Migrant Workers in the Province of Negros Occidental."
"We are the first province in the Philippines to have this project with the ILO," Lacson said.
As the project implementation concludes this November, three local government units (LGUs), including the cities of Talisay and Victorias and E.B. Magalona town, have already set up their help desks.
Several other LGUs have also established their own OFW offices or help desks, with some serving as separate offices while others are functioning as desks under the Public Employment Services Office (PESO).
Under the project, the province has conducted training sessions on reintegration, labor rights, gender quality, leadership and advocacy skills development, and for case handlers, organized OFW summits and helped form OFW barangay and LGU federations.
The province formed the Provincial Committee on Migration Development (PCMD), advocated by the Provincial Planning and Development Office in mid-2020.
Along with the province's ILO project, the PCMD has fostered a closer relationship with key government agencies such as the Overseas Workers Welfare Administration (OWWA), the Philippine Overseas Employment Administration (POEA) and the Department of Migrant Workers (DMW).
"This collaborative coordination was evident when the province assisted in the online inquest on the death of a migrant worker from Sagay City in Hong Kong and on the death of Loreta Alacre of Cadiz City in Israel," Lacson added. (PNA)