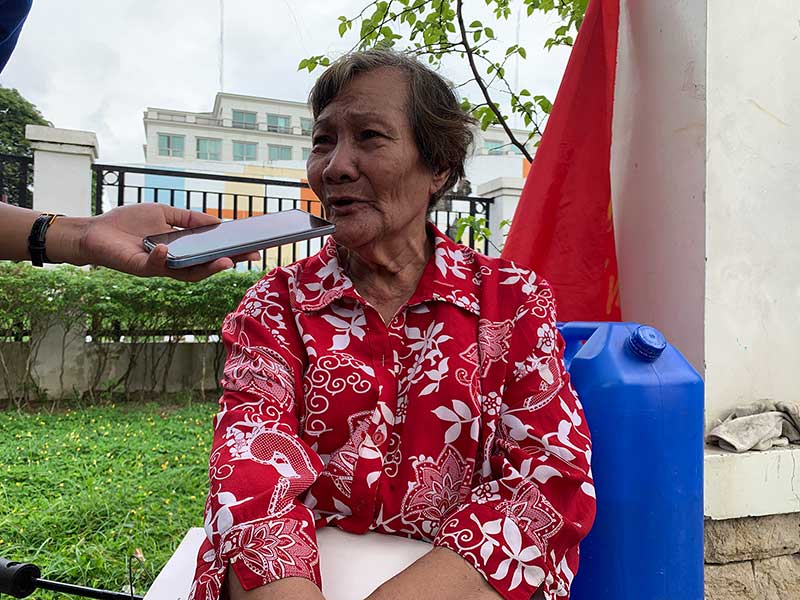 By Rjay Zuriaga Castor
Progressive groups and student activists staged a protest in front of the Iloilo Provincial Capitol to commemorate the 51st anniversary of the declaration of martial law by the late dictator Ferdinand Marcos Sr.
Amid the downpour on Thursday afternoon, around 100 Ilonggos coming from different sectoral groups and state universities joined the protest to remember the human rights abuses and the massive corruption during the regime.
This year's commemoration will be the second under President Marcos, the namesake and son of the late dictator.
Thea Kryshan Dayata of the University of the Philippines Visayas student council said that the administration of the late dictator's son and namesake is no different from the atrocities witnessed during the Martial Law era.
"Wala kinalain ang pamalakad sang gobyerno sa duwa ka marcos. Subong nga nagapungko ang iya bata, indi natun tuod mabatyagan ang paghugot or strikto nga militarization sa atun nga lipunan pero mabatyagan natun ang pagpigos sa atun nga ekonomiya," she said.
In a survey conducted by OCTA Research, 50% of Filipino families, or around 13.2 million households, considered themselves poor during the second quarter of 2023.
The country's inflation rate, which had been on a downward trend for six consecutive months, jumped to 5.3% in August from 4.7% recorded last July.
"Kung martial law ang sang una, terror law ang sa subong," Dayata added.
She further urged her fellow students to recall the pivotal role played by the youth in overthrowing the Marcos dictatorship during the People Power Revolution in February 1986.
"Ang youth ang may pinaksahi nga pwersa para mag arouse, organized, kag mobilize sang upod nila nga mga pamatan-on […] Kita nga youth ang may ara vigor para nga magupod sa masa, matun an ang ila realidad," she said.
Roby Magbanua of the ACT Teachers Party-list slammed the Department of Education's  (DepEd) order to remove Marcos from "Diktadurang Marcos" (Marcos Dictatorship) in Grade 6 textbooks,
"It's revisionism talaga. Indi lang siya simple nga pagkuha. Gusto nila i-revise and history […] Sa subong pa lang gina twist na, gina revise na […] Gusto gid ni Deped Secretary nga ipangrevise kag kayuhon nila according sa ila nga pagpati subong," she said.
Magbanua believes while this is an obvious attempt to revise history, the term dictatorship is still connotated to the Marcoses.
"When we thought of dictatorship, no other dictatorship kundi Marcos dyapon. Wala sang iban nga diktadurya kundi si Marcos man lang," she stressed.
Meanwhile, Mary Ann Forro of human rights group Karapatan shed light on the plight of two young activists from Bulacan, Jonila Castro and Jhed Tamano, who were allegedly abducted and threatened by the military.
"Sang ginpahambal na si Jonila kag si Jhed, ila ginpanindugan ang kamatuoran nga sila ginkuha sang mga militar sang pilit kag pakusog kag wala sila nag-surrender kundi napilitan sila sa pagpirma sang himo-himo nga affidavit bangud sa pamahug sa ila kabuhi. Maathag nila nga ginhambal nga wala sila boluntaryo nga nagpainakup sa militar," she said.
Forro said that this incident is similar to the intimidation and harassment of activists committed during the height of the Marcos dictatorship.
According to Amnesty International, from 1972 to 1981, about 72,000 were imprisoned, 34,000 were tortured and 3,240 were killed.
Lucia Capaducio of the peasant group PAMANGGAS emphasized that one of the most pressing issues faced by Filipinos today is poverty.
"Ang problema sang pungsod subong indi giiyera, indi away. Ang problema sang pungsod Pilipinas ang kaimulon kag kakulangon sa pagkaon," she said.
Capaducio added that Marcos Jr., who is concurrently the Department of Agriculture (DA) secretary, is rather focusing on importation.
"Siya mismo ang nagguba sang aton nga ekonomiya. Hindi siya nagakaangay nga maging secretary sang Department of Agriculture," she said.
The elder Marcos publicly declared Martial Law on September 23, 1972, although the official document – Proclamation No. 1081, s. 1972 — was believed to have been signed on September 21.