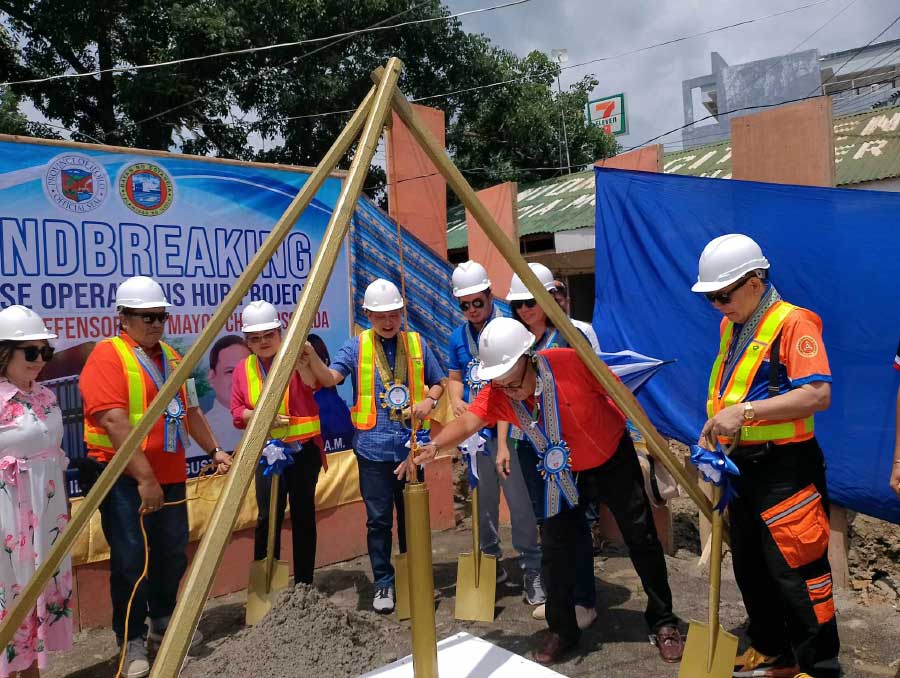 By Rjay Zuriaga Castor 
The P5-million civil defense operations hub or resilience that will soon rise in Estancia town in northern Iloilo is seen to protect the Visayan Sea, a rich fishing ground being threatened by illegal fishing activities.
Iloilo Governor Arthur Defensor Jr. and Estancia Mayor Mary Lynn N. Mosqueda led the groundbreaking ceremony of the state-of-the-art civil defense operations hub on Thursday.
"This will be the headquarters of environmental management, this will be the headquarters of our Visayas sea. This will be the home of your Bantay Dagat […] We will work together in the management of our Visayan sea," said Defensor.
Defensor further noted that the Visayan sea is the "most important resource here in the northern part of the province."
The Visayan Sea straddles 33 cities and towns in the provinces of Capiz, Iloilo, Negros Occidental, Cebu, and Masbate. According to the Bureau of Fisheries and Aquatic Resources (BFAR), it is home to over 400 species, including sardines, blue swimming crabs, and squids.
BFAR studies showed that there has been a decline in its seafood supply since the 1980s, which the bureau attributes to the widespread practice of blast fishing, along with the intrusion of damaging fishing methods such as trawling, Danish seines, among others,
Apart from the protection of the sustainability of fisheries in the area, Defensor said the resilience hub will complement the Provincial Civil Defense (ProCid) operations center at the provincial capitol, which will allow for faster response and efficient coordination in times of disasters and emergencies.
"This is our headquarters for disaster risk reduction and management and others. This will be the headquarters of environmental management […] That is our direction," he said.
"Ang direction nga ini this is a part of our whole-province approach to disaster risk reduction and management and our environmental management programs," the provincial governor added.
Defensor said the provincial government will develop the hub by providing necessary equipment and making it digitized to connect it to the Provincial Civil Defense Operation Center at the Capitol.
"Ang ini nga building we will develop this, butangan natun gamit, ang aton gusto nga dapat maging digitized ni siya… We will continue to develop our capacities to attend to disasters," he said.
Estancia Mayor Mary Lynn N. Mosqueda highlighted the hub's significance for the town, citing that it is a coastal community and is vulnerable to natural disasters such as typhoons.
Mosqueda said he also requested Defensor for more patrol or rescue boats for its Bantay Dagat Task Force.
The hub in Estancia is the second to break ground after the one Carles earlier this June. Similar hubs in Banate and Miagao are also set to break ground this year.
The provincial government said the four towns are strategic areas for the construction since they are vulnerable to flooding or in coastal areas, which ensures a rapid response and effective coordination during times of emergencies.