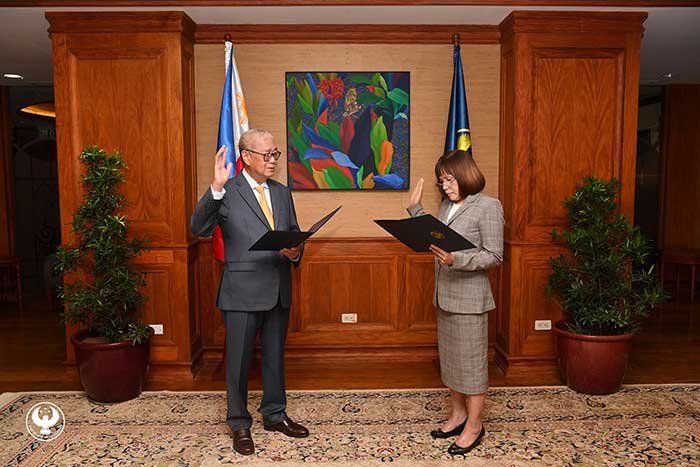 Bangko Sentral ng Pilipinas (BSP) Governor Eli M. Remolona, Jr. (left) swore in former National Treasurer Rosalia V. De Leon as the newest Monetary Board Member (MBM) on 20 September 2023 at the BSP head office in Manila.
MBM De Leon will serve a six-year term in the BSP's highest policymaking body, which is concurrently chaired by Governor Remolona. The board also includes Finance Secretary Benjamin E. Diokno, V. Bruce J. Tolentino, Anita Linda R. Aquino, and Romeo L. Bernardo, who took his oath of office last week.
MBM De Leon was Treasurer of the Philippines from November 2012 to January 2015 and from February 2017 to September 2023, during which she directed the country's borrowing, investment, and capital market development policies.
She also served at the Department of Finance as Undersecretary of the International Finance Group and as Chief of Staff to the Finance Secretary.
She was likewise Alternate Executive Director at the World Bank Group in Washington, DC from January 2015 to January 2017, covering the Philippines, Brazil, Colombia, Dominican Republic, Ecuador, Haiti, Panama, Suriname, and Trinidad and Tobago. She was also Advisor to the Executive Director at the Asian Development Bank.
MBM De Leon earned her Master of Arts in Development Economics from Williams College, Massachusetts, USA. She graduated with a Bachelor of Arts in Economics from the University of the Philippines.